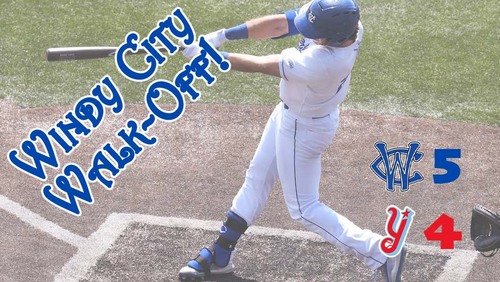 CRESTWOOD, IL – Jairus Richards hit a solo home run in the bottom of the ninth inning to break a 4-4 tie and give the ThunderBolts a 5-4 win over the Florence Y'alls in game one of a day/night doubleheader at Ozinga Field on Thursday.
Florence (20-33) took a first-inning lead for the third consecutive day behind a Brennan Price RBI triple. Price struck again in the third inning with an RBI single that put the Y'alls ahead 3-0 after three.
Florence starter Jonaiker Villalobos handcuffed the Windy City hitters through the first five innings, keeping his team in the lead, but the ThunderBolts (22-30) jumped ahead for the first time with a big rally off of Villalobos in the sixth. Richards hit a leadoff double and moved to third on Jake Boone's single. Brynn Martinez got the team on the board with an RBI single. A walk loaded the bases in front of Daryl Myers, who doubled home three runs and made the score 4-3.
The Y'alls were able to tie it up in the eighth inning with a two-out rally. Ethan Stern came up with an RBI single.
It was 4-4 with one out in the ninth when Richards ended it with a shot to right field. It was Richards's seventh homer of the year but first since June 15.
Bryan Ketchie threw a career-high 7.2 innings and allowed three earned runs but didn't factor in the decision. Layne Schnitz-Paxton (2-3) tossed a scoreless ninth for the win. Joe Dougherty (0-4) gave up the final run and took the loss.
The four-game series wraps up with a 7:05 first pitch on Thursday night. It'll be a White Castle Wrestling Thursday at Ozinga Field, transforming the ThunderBolts into the Windy City Sliders. Zelo Pro Wrestling will perform a one-hour postgame show. Tyler Thornton (2-5, 8.59) starts for the ThunderBolts against Florence's Alex Wagner (1-1, 7.02). The game broadcast can be found through wcthunderbolts.com.