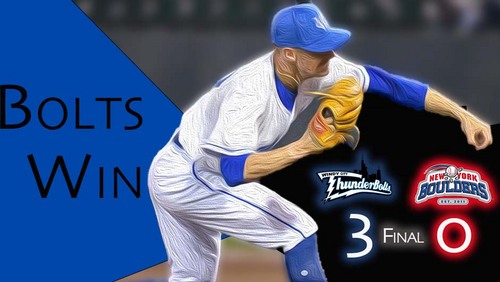 CRESTWOOD, IL – Bryan Ketchie allowed no runs over six innings and Dan Robinson added 2 hits as the ThunderBolts cruised their way to a 3-0 win over the New York Boulders at Ozinga Field Friday night.
In the bottom of the first, the ThunderBolts (7-6) wasted no time in busting out the bats. With one out, Daryl Myers singled up the middle and one batter later, Bren Spillane plated him with an RBI double off the wall in left field.
The Bolts added another run in the fifth inning when Payton Robertson singled and Brynn Martinez drove him in with his team-high third triple of the season to make the score 2-0.
One more run would be scored in the sixth inning. An RBI double to right-center field off the bat of Dan Robinson scored Bren Spillane and the ThunderBolt lead grew to 3-0.
The Boulders (6-8) out-hit the Bolts 8-6 but struggled with runners on base, grounding into one double play while striking out nine times.
Ketchie departed after retiring six of the final seven batters he faced and the combination of Neil Abbatiello and Brayden Bonner held the Boulders scoreless over the final three innings, securing the victory.
Ketchie (1-0) picked up his first win of the season while Willie Rios (0-1) took the loss for New York, allowing three runs on six hits and three walks.
The ThunderBolts continue their six-game home stand on Saturday for game two against the Boulders. Miguel Ausua gets the start for the Bolts on Star Wars Night at Ozinga Field. The game will be followed by a postgame fireworks show. First pitch is set for 6:05 and the game broadcast can be found at wcthunderbolts.com.