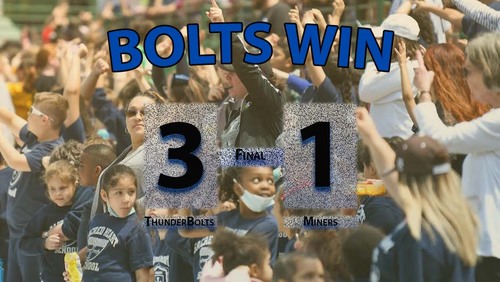 CRESTWOOD, IL – Tyler Thornton pitched six strong innings and Manny Garcia hit a two-run double to guide the ThunderBolts to a 3-1 win over the Sussex County Miners in the opener of a three-game series at Ozinga Field Tuesday afternoon.
The Bolts (4-6) jumped on the board early, getting back-to-back hits from Daryl Myers and Bren Spillane in the bottom of the first. With two outs and runners at second and third, Garcia gave the home team a 2-0 lead with a double down the right field line.
It didn't take long for Sussex County (7-4) to respond. Thornton had some problems with his control in the second inning, walking one batter and hitting another. An infield single loaded the bases and Jawuan Harris brought home the Miners' lone run with an RBI groundout.
Windy City got the run right back in the bottom of the frame as Brynn Martinez tripled and Myers singled him home to make it 3-1.
After the early flurry of offense, no one scored the rest of the game. Thornton (2-1) allowed three more hits but didn't walk anyone after the second inning. He allowed just one total run over six innings for the win. Miguel Ausua and Layne Schnitz-Paxton combined to toss three innings of hitless relief. For Schnitz-Paxton, a scoreless ninth gave him his second save of the year.
Dwayne Marshall (2-1) allowed three runs over six innings to take his first loss of the season.
The three-game series continues on Wednesday with the second consecutive 10:35 start time. It is School Day III at Ozinga Field. Kenny Mathews (0-1, 8.68) makes his third start of the year for the ThunderBolts and the Miners counter with James Mulry (1-1, 8.00) The game broadcast can be found at wcthunderbolts.com