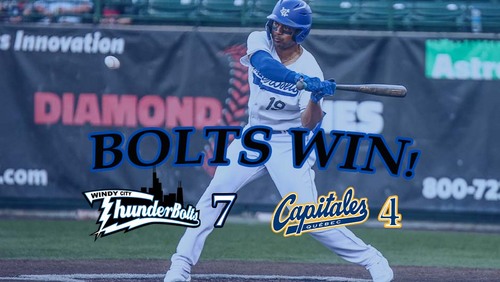 CRESTWOOD, IL – After trailing for most of the game, the ThunderBolts launched a six-run rally in the bottom of the eighth inning to come away with a 7-4 win over the Quebec Capitales at Ozinga Field Sunday afternoon.
Bryan Ketchie got off to a strong start in his first outing of the year for the Bolts (2-2). He did not allow a run over the first three innings.
Quebec got on the board in the fourth. Jeffry Parra singled and TJ White hit a two-run homer.
Dan Robinson tripled to lead off the bottom of the sixth and Manny Garcia brought him home on a sacrifice fly to cut the deficit in half but Quebec added two more over the next few innings. David Glaude hit an RBI single and Jonathan Lacroix hit a sacrifice fly to make the Quebec lead 4-1 heading into the bottom of the eighth.
That's when the Bolts' bats broke out. Jace Mercer drew a leadoff walk and Robinson followed with a long home run. Garcia, representing the tying run, hit a double and Rob Weissheier's RBI single scored the tying run. Jairus Richards was hit by a pitch to put two on with two out and back-to-back singles from Brynn Martinez and Payton Robertson brought home three more runs to give the ThunderBolts a 7-4 win.
Justin Miller (1-0) was on the mound for an inning and picked up his first win. Stephen Knapp (0-1) allowed three runs and took the loss.
After a Monday off, the ThunderBolts get their first look at the expansion Ottawa Titans. Tuesday night is Value Tuesday at Ozinga Field with tickets and hot dogs selling for just two dollars. Miguel Ausua (0-0, 3.38) makes his first start of the year for the Bolts. First pitch is scheduled for 7:05 and the broadcast can be found at wcthunderbolts.com.