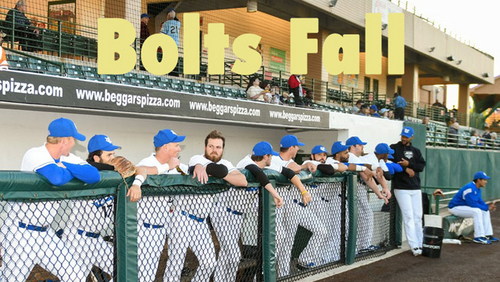 CRESTWOOD, IL – Tom Jager carried a two-hitter into the ninth inning in his first professional start but the Schaumburg Boomers scored four runs in the ninth inning to defeat the ThunderBolts 5-2 at Ozinga Field Wednesday night.
The Boomers (10-9) jumped on Jager early with a run on two hits in the first inning. Nick Ames's RBI double got the scoring started.
Jager settled in after that. He didn't give up another hit over the next seven innings and at one point retired 15 consecutive batters.
The ThunderBolts (9-9) tied the score in the bottom of the third. Rob Calabrese singled and came home on a two-out base hit from Jamey Smart.
Dan Robinson gave the Bolts their first lead of the game with a solo homer in the bottom of the seventh inning. It was his first round tripper of the year and it made the score 2-1.
The narrow lead seemed to be enough for the rookie, Jager. He came to the mound to start the ninth, looking for the complete game. He retired the leadoff man but walked Quincy Nieporte, threw a wild pitch and saw Ames tie the score with a single.
Stetson Woods came out of the bullpen, but by then, Schaumburg was on a roll. Luke Becker and Nick Oddo came up with RBI singles and a passed ball scored a third run to give the Boomers the 5-2 lead that went on to be the final.
Jake Joyce (2-0) pitched a scoreless eighth inning to get credit for the win and Jager (0-1) was the tough-luck loser. Darrell Thompson struck out the side in the bottom of the ninth for his second save.
The rubber match of the three-game set is planned for 7:05 Thursday night, White Castle Wrestling Thursday at Ozinga Field. Jake Fisher (1-2, 7.94) gets the call for Windy City against Schaumburg's Aaron Rozek (2-0, 2.32). The game will be followed by a Zelo Pro Wrestling show. Fans not in attendance can fins audio and video broadcasts through wcthunderbolts.com.