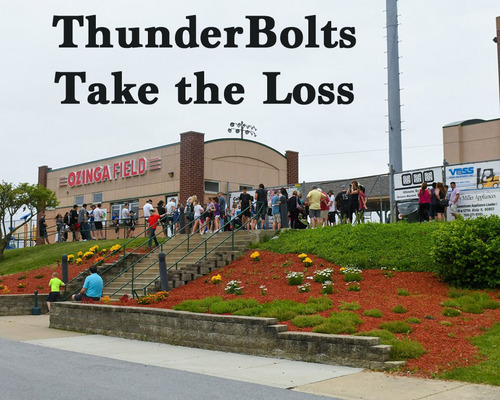 CRESTWOOD, IL – The Schaumburg Boomers broke an eighth-inning tie with six late runs to knock off the ThunderBolts 10-4 in game one of a three-game series at Ozinga Field Tuesday night.
The game began as a pitchers' duel as neither team scored for the first four innings. The ThunderBolts (32-47) broke the tie in the fifth when Michael Mateja doubled and Tanner Gardner singled him in. Micah Coffey's single scored Gardner.
Through five innings, Kenny Mathews had allowed only one hit and two total base runners but Schaumburg (40-39) broke through in the sixth. Jack Parenty singled and Matt Rose doubled him in. Quincy Nieporte hit an RBI double to tie the score and Clint Hardy gave the Boomers their first lead on a two-run homer.
The ThunderBolts fought back to tie the score in the seventh inning. Gardner singled and scored when Tyler Alamo reached on an error. Alamo tied the score, crossing the plate on a wild pitch.
The tie was short lived as Quincy Nieporte's second RBI double of the game made it 5-4 in the eighth.
The Boomers put it away with five runs in the top of the ninth. They got RBI hits from Parenty, Nieporte and Hardy in the inning.
Mathews ended up lasting 5.2 innings, allowing four runs while his counterpart, Connor Reed, gave up two runs in five innings. Neither starter took a decision as Dylan Stutsman (6-2) tossed an inning and a third for the win and Connor Mayes (1-4) allowed the go ahead run for the loss.
Tyler Thornton (5-2, 2.87) gets the game two start for the ThunderBolts on Wednesday and will be opposed by Payton Lobdell (2-7, 3.96). It is $1.00 hot dog night at Ozinga Field as well as Medix Military Wednesday. First pitch is scheduled for 7:05 and the broadcast can be heard through wcthunderbolts.com.