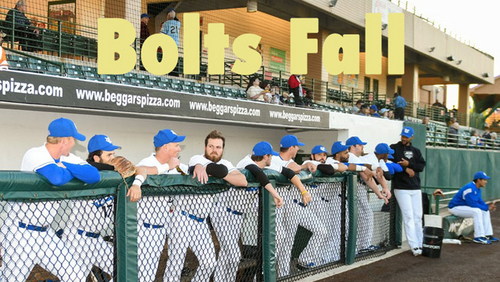 CRESTWOOD, IL – The Lake Erie Crushers hit two home runs and scored five runs in the top of the ninth inning to break open what had been a tight pitchers' duel and beat the ThunderBolts 6-1 at Ozinga Field Friday night.

Chris Washington started for the ThunderBolts (6-8) and pitched around three hits over the first two innings. He settled in and rarely faced trouble the rest of the way. Washington ended up pitching into the seventh inning with his shutout intact and struck out a career-high 11 batters.

Lake Erie's starter, Patrick Ledet was just as good. He retired eight of the first nine batters and gave up only four hits overall in his seven innings. Ledet also set a career high with 11 strikeouts.

The Crushers (9-4) finally broke the scoreless tie in the eighth inning, when James Davison hit a leadoff single. An error and a flyout moved him up to third and he scored on a grounder to short that was mishandled by Brynn Martinez.

Shane Carrier tied the game up in the bottom of the eighth inning. With two outs and no one on base, he hit his third home run of the year to make it a 1-1 game.

In the ninth, Lake Erie got a single and a walk to put two runners on with two outs in front of Davison, who curled a three-run homer inside the left field foul pole to give the Crushers a 4-1 lead. Emmanuel Marrero hit a solo shot to make it back-to-back homers and Steven Kraft hit an RBI double later in the inning to finish the scoring.

Augie Gallardo (1-1) picked up the win in relief and Connor Mayes (1-1) took the loss.

The ThunderBolts' and Crushers continue their series on Saturday with Adam Oller (1-1, 0.47) taking the ball for the ThunderBolts against Lake Erie's Dylan Mouzakes (1-0, 2.92). It is Star Wars Night at Ozinga Field, presented by Emagine Theater with fireworks following the game. First pitch is scheduled for 6:05 and the radio broadcast can be found at wcthunderbolts.com.