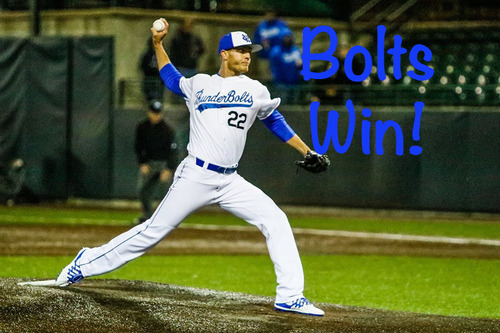 CRESTWOOD, IL – An RBI double in the bottom of the fifth inning by Tim Zier proved to be the difference in a tightly contested affair, as the ThunderBolts held off the Gateway Grizzlies 2-1 at Standard Bank Stadium Tuesday night.
Braulio Torres-Perez made his Windy City (20-34) debut and competed over six innings. The lefty allowed a second inning leadoff single to Terry McClure, who stole two bases and later scored on a Brennan Morgan groundout.
That was it for the Gateway (24-32) offense. Four ThunderBolts hurlers combined to strand 11 Grizzlies on base and totaled 15 strikeouts. The final seven consecutive outs recorded by Windy City pitching were on strikes.
In the fifth inning, the Bolts offense got going. Will Krug doubled with one out and Joe Becht singled to put runners at the corners. Omar Obregon followed with a bunt base-hit to score Krug that tied the contest.
Tim Zier then laced a double down the leftfield line to drive in Becht that proved to be the difference.
Torres-Perez (1-0) earned the win in his first start of 2018. Taso Stathopoulos (0-2) took the loss. Jack Anderson allowed back-to-back singles with two outs in the ninth, but struck out Blake Brown to notch his second save.
Game two of the series will take place on Wednesday at Standard Bank Stadium. Eddie Avila (0-3, 6.18) will get the start against Gateway's Will Anderson (2-2, 9.79).
Wednesday is Senior Night at the ballpark. Anyone over the age of 55 will be given a voucher good for free admission. First pitch is scheduled for 7:05 and the broadcast can be heard through wcthunderbolts.com.