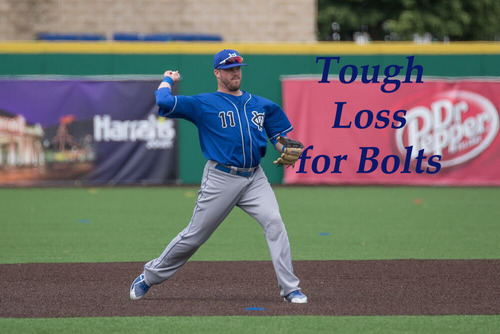 JOLIET, IL – The Joliet Slammers walked off in the bottom of the eighth inning to wrap up their second consecutive doubleheader sweep of the ThunderBolts at Route 66 Stadium Thursday night.
The ThunderBolts scored the first run of the game as Jonathan McCray and Axel Johnson hit back-to-back singles. Larry Balkwill's sacrifice fly put the Bolts ahead 1-0.
Joliet responded in the bottom of the inning as they loaded the bases on three straight walks. Back-to-back doubles by RJ Thompson and Trenton Hill scored two runs each and a Ridge Hoopii-Haslam RBI single made it 5-1.
The Slammers added single runs in the second on a Thompson single and in the fourth on a Hill sacrifice fly.
Omar Obregon doubled for the Bolts to lead off the sixth inning. He scored on a Johnson groundout to wrap up the scoring.
Corey Kimber (2-2) allowed one run in 5.2 innings of relief for the win. Connor Bach (0-1) allowed six runs in three innings to take the loss.
The ThunderBolts took a 1-0 lead again in game two as Larry Balkwill singled and eventually scored on a Tim Zier sacrifice fly.
The Slammers were held off the scoreboard by Paddy Ledet until the bottom of the sixth inning, when they loaded the bases and scored on a Ridge Hoopii-Haslam sacrifice fly.
The Bolts had the go-ahead run in scoring position in both the seventh and eighth innings but were unable to score before Joliet got a leadoff double from Danny Zardon in the bottom of the eighth. Jack Andersen retired the next two batters but Travis Bolin singled home Zardon to win the game.
Keegan Long (2-2) recorded an out against the only batter he faced and picked up the win. Ledet (2-4) allowed just one earned run in seven innings but took the loss.
The ThunderBolts return home to start a three-game series with the Lake Erie Crushers on Friday. Eddie Avila (0-1, 5.40) gets the game one start for the Bolts against Lake Erie's Ethan Westphal (0-1, 0.67). Santino Marella will be present for White Castle Wrestling Thursday featuring wrestling shows before and after the game. First pitch is set for 7:05 and the broadcast can be heard through wcthunderbolts.com.