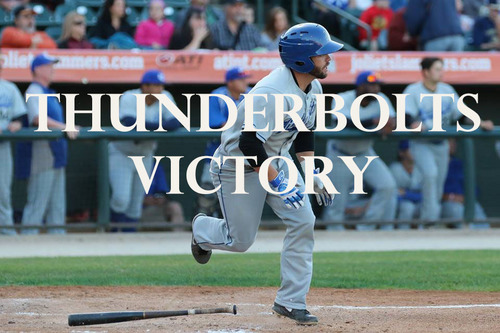 SCHAUMBURG, IL – Jake Welch threw eight strong innings and Will Krug scored all four runs as the ThunderBolts defeated the Schaumburg Boomers 4-1 at Boomers Stadium Thursday night.
Krug started the game by getting hit by a pitch. After he moved all the way to third base on a Tim Zier sacrifice bunt, Riley Krane walked. Krug scored on the back end of a double steal to get the scoring started.
The Boomers (10-13) tied the score in the bottom of the inning when Sean Godfrey hit a two-out double and Collin Ferguson singled him home.
The Bolts (9-13) took the lead for good in the third inning when Krug singled and stole second. He scored on a Tyler Straub base hit. Riley Krane took his turn with an RBI single in the fifth, scoring Krug, who had again hit a leadoff single.
Schaumburg's last serious threat came in the sixth. They loaded the bases with one out, but Ty Moore lined out to right field and Blair Beck threw back to second to double up Godfrey and end the inning.
The final run scored in the seventh as Krug again singled and stole second. He would cross the plate on a Tyler Straub sacrifice fly.
After his first inning troubles, Welch retired ten of the next 11 hitters and exited after a career-high eight innings. He allowed seven hits in the game and struck out three as he improved to 3-0 for the year.
Sam Myers (0-1) took the loss, allowing three runs in 4.2 innings in his Boomers debut.
Devin Raftery earned his sixth save with a perfect ninth inning.
The ThunderBolts continue their season-long nine-game road trip on Friday night with their first trip this year to Traverse City. The Bolts will start Will Landsheft (2-0, 1.08) in game one against the Beach Bums' Jordan Desquin (2-0, 2.20). First pitch from Wuerfel Park is scheduled for 6:05 and the broadcast can be heard through wcthunderbolts.com.