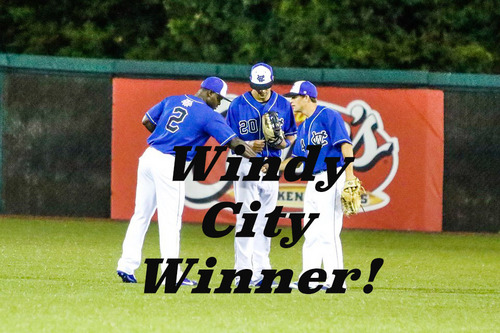 CRESTWOOD, IL – The Windy City ThunderBolts overcame a 3-0 deficit and defeated the Schaumburg Boomers 6-5 on the final day of the regular season, scoring the winning run on a groundout in the bottom of the ninth.
The Boomers (66-30) opened the scoring with a run in the third inning on a Josh Gardiner sacrifice fly. They scored a run the next inning on a rock Shoulders RBI single and made it 3-0 in the fifth on Gardiner's second sacrifice fly.
The Windy City comeback began in the bottom of the fifth as Ransom LaLonde doubled and Andrew Dundon singled. Both men scored on a Blair Beck single and throwing error.
After a James Keller RBI single pushed the Schaumburg lead to 4-2, Zack Jones responded. His solo home run moved the ThunderBolts (51-45) back to within one.
Again the Boomers scored a solo run, this time on an Andrew Brodbeck sacrifice fly, but again the Bolts responded. Will Krug hit a one-out triple in the seventh and scored on a Beck single.
They tied the score in the eighth as Tim Zier doubled and came home on a two-out bloop single for Andrew Dundon.
That set the stage for the ninth inning, when Beck singled and stole second base. An infield hit for Keenyn Walker and defensive indifference put runners at second and third with one out. Coco Johnson hit a grounder to second and was out at first base, but when the Boomers threw back to second to try to catch Walker off the bag, Beck raced across the plate with the winning run.
Josh Glick (6-2) pitched a scoreless ninth for the win. Kyle Westwood (3-1) took the loss.
The 6-5 win concluded the ThunderBolts season as they were officially eliminated from playoff contention the previous day. They finish the year 8.5 games better than 2016 with a 51-45 record. They will return to Frontier League action in May of 2018. All information regarding the team during the offseason, including the release of the 2018 schedule can be found at wcthunderbolts.com.