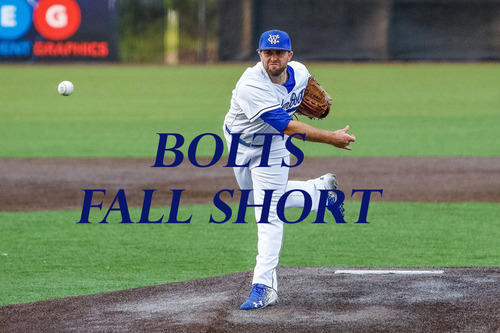 CRESTWOOD, IL – The ThunderBolts' playoff hopes were dealt a blow Friday evening as they came from behind in the ninth inning but lost 3-2 in ten to the Schaumburg Boomers.
Zac Westcott got the ThunderBolts (50-44) off to a strong start, shutting out the Schaumburg bats over the first five innings.
The Bolts took the lead in the bottom of the second. Corey Bass doubled and Ransom LaLonde singled him in. They loaded the bases in the third in an effort to extend the lead but Kagen Hopkins struck out Kyle Wood to end the threat.
The Boomers (65-29) got on the board in the sixth. Kyle Ruchim walked and Josh Gardiner singled. With two outs, they both scored on RBI hits from David Harris and Tanner Pinkston respectively.
The ninth inning began with the Bolts still trailing 201 but Wood led off with a walk. Pinch runner Will Krug advanced to second on a Ransom LaLonde bunt. He stood at second base with two outs when Blair Beck delivered a game-tying RBI single to send the game into extra innings.
With Westcott still pitching in the top of the tenth, Andrew Brodbeck hit a leadoff double. After he was bunted to third, Gardiner tried a squeeze play but missed the bunt. Brodbeck, caught in a rundown between third and home, avoided the tag and stole home with the winning run.
Westcott (8-5) took the loss despite being the first Frontier Leaguer to throw more than nine innings in six years. He allowed three runs in 9.1 innings pitched. Garrett Kelly (1-0) blew the save but pitched a 1-2-3 tenth for the win.
Game two of the series will pit the Bolts' Will Landsheft (6-9, 4.63) against Schaumburg's Joe Hauser (3-1, 1.85) on Saturday night. The game will be followed by the Super Mega Fireworks Spectacular sponsored by Lumina Pyrotechnics. First pitch from Standard Bank Stadium is scheduled for 6:05 and the broadcast can be heard on WXAV 88.3 FM and wxav.com.