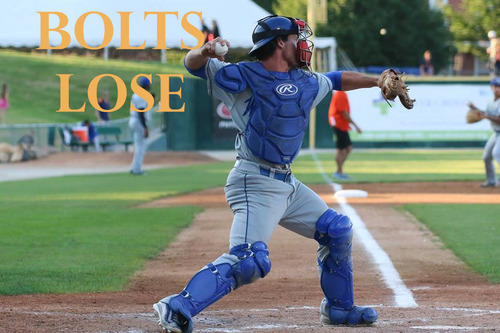 MARION, IL – The ThunderBolts took a 5-0 lead but could not hold it as they issued eight walks and fell to the Southern Illinois Miners 6-5 at Rent One Park Sunday night.
Larry Balkwill hit a solo home run in the fourth inning to give the ThunderBolts (36-29) a 1-0 lead. It was Balkwill's 11th home run of the season.
The Bolts added four more runs, all with two outs in the fifth inning. Ransom LaLonde and Blair Beck each singled and Keenyn Walker walked to load the bases before Riley Krane singled home two runs. Balkwill walked to load the bases again before Tim Zier singled home another run. An error on the play brought in one more and the ThunderBolts had a five-run lead.
The Miners (25-40), who had only four hits in the game, came back with three runs in the bottom of the inning. Ryan Sluder was hit by a pitch and London Lindley singled in front of an RBI double for Craig Massey. Drake Robison walked the next two batters to load the bases before departing with a 5-2 lead. Andrew Lowe got out of the jam, allowing just one run on an error.
Lowe struggled with his command when he came back out for the sixth. He walked Lindley and Massey and both men scored on a Romeo Cortina triple. Cortina scored the winning run, sliding in just ahead of the tag on a groundball to second base.
Corey Sessions (2-5) was the winner, pitching an inning out of the Southern Illinois bullpen. Kyle Grana and John Werner combined to strike out six ThunderBolts in the final three innings as Werner converted his 14th save.
Lowe (0-1) allowed three runs on just one hit and took the loss.
The ThunderBolts return home to take on the Joliet Slammers on Tuesday. Jake Fisher (6-5, 3.35) gets the start in game one. First pitch is scheduled for 7:05 and the broadcast can be heard through wcthunderbolts.com. Monday night, the Bolts will take on the Chicago Bandits in an exhibition softball game for the fourth annual Battle of the Sexes. The game begins at 7:05 at Standard Bank Stadium.