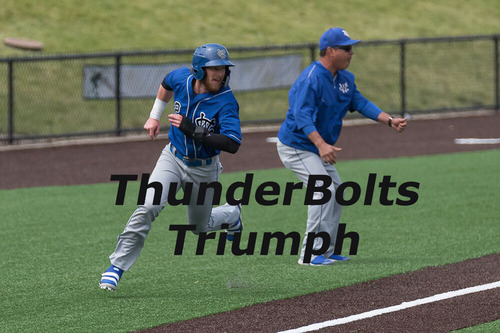 CRESTWOOD, IL – Blair Beck's three-run homer in the seventh inning and Tim Zier's RBI single later in the inning led the Windy City ThunderBolts to a 4-3 come-from-behind victory over the Schaumburg Boomers at Standard Bank Stadium Tuesday afternoon.
Kyle Von Ruden retired the first six batters he faced for the ThunderBolts (2-2) before Schaumburg (3-1) got to him in the third. Zach Weigel and Josh Gardiner picked up RBI singles in a four-hit attack to make the score 2-0. The Boomers missed an opportunity to add a run when Zach Weigel left third base too early on a tag up play and was called out on appeal.
David Harris hit a solo home run in the fourth to extend the Schaumburg lead to 3-0 before Von Ruden settled in again and retired eight straight hitters.
The ThunderBolts managed just three hits over the first six innings but Austin Darby walked to begin the seventh. Larry Balkwill followed with a single and Beck took an 0-2 pitch over the left field wall to even the score. Keenyn Walker followed with a walk. He moved to second on a stolen base and to third on an error. Zier knocked him in with a single to give the Bolts their first lead.
Von Ruden allowed three runs in 6.2 innings and Preston Jamison threw 5.1 shutout innings for Schaumburg but neither starter factored in the decision.
Cody Mincey (1-0) recorded the final out in the seventh and picked up his first pro win. Rob McDonnell (0-1) allowed all four runs in the seventh and took the loss. Brian Loconsole pitched a scoreless ninth for his second save.
The ThunderBolts and Boomers will play their second of three consecutive day games on Wednesday morning. Jake Fisher will make his first start of the year against Schaumburg's Lars Liguori on another School Day at Standard Bank Stadium, presented by Raising Cane's Chicken Fingers. First pitch is scheduled for 10:35 and fans not in attendance can hear the broadcast on WXAV 88.3 FM and wxav.com.