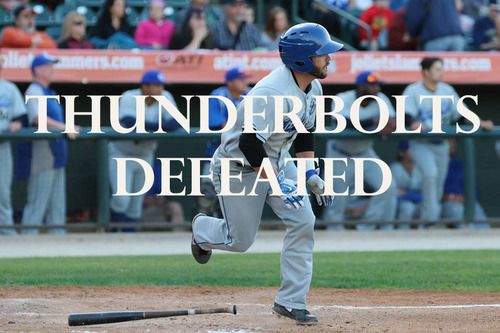 JOLIET, IL – The Windy City ThunderBolts suffered their ninth straight loss Tuesday night as they fell in the series opener to the Joliet Slammers 6-1 at Silver Cross Field. The losing streak is the team's longest in more than five years.
Alfredo Rodriguez singled to lead off the bottom of the first inning for Joliet (45-39). He moved to third on an error and scored on Jake Gronsky's base hit to give the Slammers the early lead.
The ThunderBolts (36-48) responded with a run in the second. Ransom LaLonde walked, stole second, advanced to third on an error and scored on a Johnny Eierman sacrifice fly.
Joliet took the lead for good in the bottom of the second inning on a solo home run from Zarley Zalewski. They made it 3-1 when Charlie White, who had reached on a single, scored on another Gronsky RBI hit.
ThunderBolts starter Jayson Yano settled in nicely and allowed only one more hit over his final three innings.
The Slammers put the game away with three runs on just one hit in the sixth. Joe Staley singled and Zalewski walked. White dropped down a bunt and a throwing error allowed Staley to score. Gronsky came up with his third RBI on a fielder's choice later in the inning and a Brian Loconsole balk brought in a third run, making the score 6-1.
LaLonde doubled twice for the Bolts over the final three innings but no one else made it into scoring position as the Slammers wrapped up the win.
Sean Townsley (6-7) allowed just an unearned run over six innings in earning the win while Yano fell to 0-2 with the loss. He allowed two earned runs in five innings.
Game two between the ThunderBolts and Slammers is on Wednesday with Kyle Von Ruden (1-4, 3.78) on the mound for the Bolts. He'll be opposed by Joliet's Shane Bryant (4-2, 4.31). First pitch from Silver Cross Field is scheduled for 7:05 and the broadcast can be heard through wcthunderbolts.com.