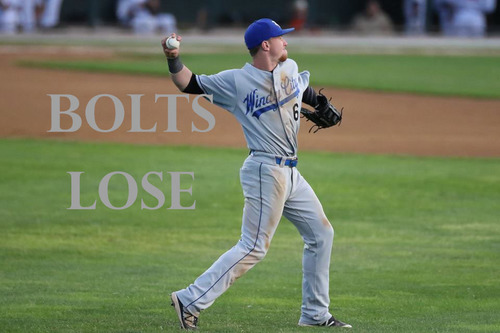 O'FALLON, MO – The ThunderBolts came from three runs behind to tie the River City Rascals before River City scored two late to capture an 8-6 win and sweep the ThunderBolts at CarShield Field Sunday evening.
River City jumped out to an early lead with a first-inning run when Johnny Morales singled and Josh Silver doubled him home.
The ThunderBolts responded with a game-tying solo home run in the second. The homer was Corey Bass's 11th of the year and the third of the series for Windy City. The next inning, Taylor Smart hit the team's fourth of the series and his second in as many days. His two-run homer made it a 3-1 ThunderBolts lead.
A five-run bottom of the third turned the game in River City's favor. They had five hits in the inning, including an RBI single for Josh Ludy. The big hit in the frame came from Mike Jurgella, whose three-run homer gave the Rascals a 6-3 lead.
Johnny Eierman walked to lead off the fourth for the ThunderBolts. He stole second, moved to third on an error and scored on a Ransom LaLonde groundout to cut the deficit to two. The Bolts went on to load the bases with one out in the inning but didn't score again in the inning.
The Bolts did tie the score in the sixth as Larry Balkwill and Smart singled and Tim Zier doubled with both runs scoring.
River City reclaimed the lead in the seventh on a Robby Enslen sacrifice fly against Cameron Giannini that snapped the ThunderBolts' bullpen's scoreless streak at 22 innings, which included three earlier in the game from Zac Westcott.
Alexi Colon's solo homer in the eighth sealed the win for the Rascals.
Shane Street (1-0) pitched a scoreless inning of relief for the win, Giannini (1-2) took the loss and Zac Treece picked up his 20th save.
The ThunderBolts take Monday off before resuming their season-long nine-game road trip on Tuesday at Joliet. Jayson Yano (0-1, 6.75) will make the game one start against the Slammers at Silver Cross Field. First pitch is scheduled for 7:05 and the broadcast can be heard through wcthunderbolts.com.