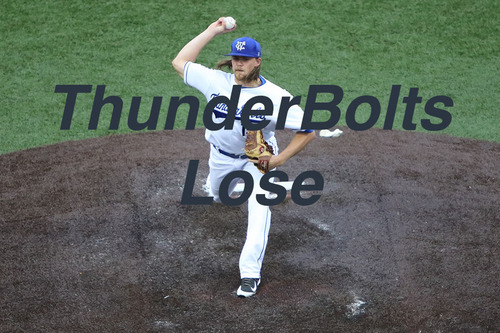 CRESTWOOD, IL – The ThunderBolts dropped a pair of games to the Washington Wild Things Sunday evening at Standard Bank Stadium. They lost the first game 6-2 before Washington came from behind in their last at bat for a 3-2 final in game two.
Washington (37-39) ran away with game one early. They scored four runs in the first inning thanks to three ThunderBolt errors. With the bases loaded and one out, Alvaro Gonzalez singled and made it all the way to third as all three men scored when Coco Johnson misplayed the ball in left field. Gonzalez scored on a Kyle Pollock single.
Kyle Wood singled and Blair Beck doubled him home in the second inning to put the ThunderBolts (36-41) on the board but Washington piled on. Heck picked up an RBI single in the fourth and a Pollock RBI double in the fifth made it 6-1.
The Bolts got their final run on a Tim Zier base hit in the fifth.
Zac Grotz (3-1) allowed two runs in six innings for the win and Brady Muller (3-8) took the loss, allowing six runs (four earned) in 4.1 innings.
Game two was a lot tighter throughout. The Wild Things broke a scoreless tie in the fourth as Gonzalez hit a triple and scored on Justin Garcia's sacrifice fly.
The score remained 1-0 until the bottom of the sixth, when Zier was hit by a pitch and Corey Bass hit a two-run go-ahead home run for Windy City.
With one out in the seventh, though, Washington fought back. Ryne Willard reached on an error to chase the starter, Clay Chapman. Chapman had struck out a career-high eight and departed with a 2-1 lead but Brian Loconsole was unable to hold it. Andrew Heck doubled and Jimmy Yezzo singled home Willard to tie the score. Ricky Rodriguez followed with the game-winning sacrifice fly.
Chase Cunningham (5-8) allowed two runs on four hits over six innings to earn the win and Loconsole (1-3) took the loss. Kolin Stanley pitched a perfect seventh for his second save.
After a Monday off, the ThunderBolts embark on their longest road tip this year. Tuesday begins a three-game series with the Lake Erie Crushers at All Pro Freight Stadium. Tyler Murphy (2-4, 4.73) will start game one for the Bolts. First pitch is scheduled for 6:05 and the radio broadcast can be heard on WXAV 88.3 FM and wxav.com.