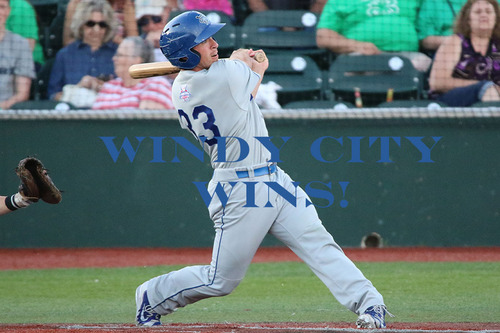 WASHINGTON, PA – The ThunderBolts and Washington Wild Things hit a combined seven home runs in a doubleheader split that saw Washington win game one 5-3 and the ThunderBolts take game two 3-1 at Consol Energy Park Wednesday night.
Washington (11-11) took an early lead in game one on a solo home run for Bryan Haar in the first inning. They doubled their lead in the fourth. Logan Uxa tripled and Alex McKeon doubled him in.
The Bolts (16-7) came back with two outs in the sixth. Singles for Corey Bass and Blair Beck put two men on base for Cody Keefer, who hit a three-run homer, putting Windy City on top 3-2.
The lead wouldn't last as David Popkins hit a tying home run in the bottom of the inning and McKeon hit the game-winner, a two-run shot later in the frame.
Kolin Stanley (1-1) allowed three runs in an inning of relief but picked up the win. Brady Muller (1-3) gave up four runs in 5.2 innings for the loss.
Game two started similarly for the Wild Things as Grant Fink hit a solo home run in the second inning to go up 1-0.
That would be all the offense they got though as Tyler Murphy and a trio of relievers combined to hold them to just two hits after the second.
The ThunderBolts took over in the fourth inning when Reggie Lawson singled in front of Blair Beck's third home run of the year. They added their third run just one inning later when Coco Johnson went deep, giving the Bolts a two-run lead.
In all, 11 of the 12 combined runs scored in the doubleheader came in on home runs.
Murphy struck out seven batters in four innings but it was Brian Loconsole (1-0) who got the win, pitching a scoreless frame of relief. Chase Cunningham took the loss, allowing three runs in five innings. Isaac Gil, in his ThunderBolts debut, pitched a perfect ninth for the save.
The rubber match of the three-game series will be Thursday at 6:05. Clay Chapman (1-1, 4.03) will start for the ThunderBolts against Washington's Luke Wilkins (0-0, 0.00). The game broadcast can be heard on WAV 88.3 FM and wxav.com.