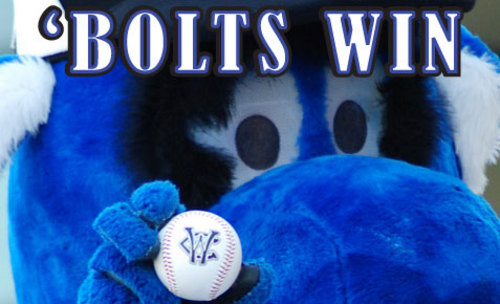 FLORENCE, KY – The ThunderBolts lost a a 3-0 lead but scored in the 12th inning on a Kevin Barker single to defeat the Florence Freedom 4-3 at UC Health Stadium Sunday night.
The ThunderBolts (2-1) jumped out to an early lead for the third straight night. They scored two runs in the top of the fourth, getting the first on a Johnny Eierman solo home run. After Ransom LaLonde doubled and Kevin Barker walked, Taylor Smart's base hit scored LaLonde to make it 2-0. Barker was thrown out at the plate on the play.
Larry Balkwill's first home run of the year the following inning extended the Windy City lead to 3-0.
The score remained 3-0 into the seventh inning. The Freedom (2-1) put runners on second and third with one out, chasing starter Jake Fisher from the game. Brandon Boyle came out of the bullpen to face pinch hitter Taylor Oldham, who hit a three-run homer on the first pitch.
The game stayed tied into extra innings. Neither team was able to score in the tenth or 11th and the international tiebreaker took effect in the 12th. With Johnny Eierman beginning the frame at second base, he was bunted to third by LaLonde and scored on Kevin Barker's base hit to make the score 4-3.
Andrew Lowe retired all three batters he faced in the bottom of the inning to secure his first professional win. Lowe threw two scoreless innings overall, allowing just one hit. T.J. Bozeman (0-1) took the loss, allowing the 12th inning run.
The ThunderBolts will take Monday off before returning home on Tuesday morning to start a two-game series with the Traverse City Beach Bums. Game one of the series is the first School Day of the year with a 10:35 start time. Ryan Strombom will make his professional debut on the mound against Traverse City's Jacob Lanning. The broadcast can be heard on WXAV 88.3 FM and wxav.com.