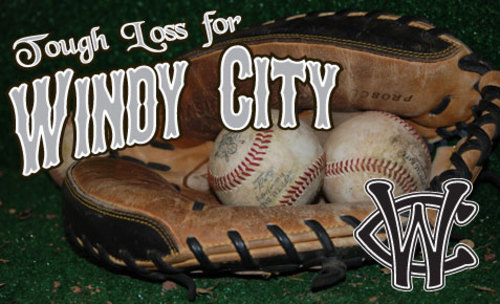 WASHINGTON, PA – Daniel Poma's walk-off double completed a 5-3 win for the Washington Wild Things, who erased a 3-0 ThunderBolts lead at CONSOL Energy Park Saturday night.
Coco Johnson gave the ThunderBolts (41-54) a very quick 1-0 lead as he homered on the first pitch of the game. Austin Gallagher singled later in the inning and scored on a Ransom LaLonde base hit to put the Bolts up by two.
Washington starter Jeremy Holcombe settled in, allowing just one hit over the next four innings, but he was matched by Windy City hurler Dyllon Nuernberg, who retired the first six batters he faced on 13 of the first 15.
The ThunderBolts added to their lead when they loaded the bases in the sixth on a single and two walks. Jacob Tanis hit a sacrifice fly to extend the lead to 3-0.
Washington (41-54) began their comeback with a run in the sixth. Maxx Garrett followed an Austin Wobrock triple with an RBI double. They added two more runs to tie the score the following inning. Nuernberg walked the first two batters before departing. Matt Peters singled home one run and a Wobrock sacrifice fly made it a 3-3 game.
That score held until the ninth. Jimmy Yezzo doubled and Sam Mende singled before the bases were loaded on a Peters intentional walk. Poma followed with his third double of the game. It skipped over the wall to score two runs and end the game.
Matt Purnell (2-3) pitched 2.1 perfect innings for the win and Danny Jimenez (3-10) took the loss. He allowed the Yezzo double in the ninth that led to the winning run.
The ThunderBolts will close up their season with the finale from Washington Sunday afternoon. Brady Muller (0-0, 9.82) will make his first professional start for Windy City against the Wild Things' Luke Wilkins (7-5, 3.49). First pitch from CONSOL Energy Park is scheduled for 1:35 CDT and the broadcast can be heard on WXAV 88.3 FM and wxav.com.