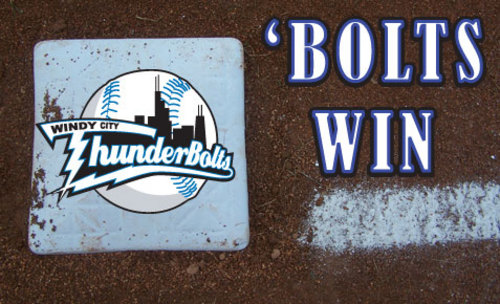 CRESTWOOD, IL – The ThunderBolts won their second straight and wrapped up a two-game series sweep of the Frontier Greys Saturday night with a 3-2 victory at Standard Bank Stadium.
The Greys struck first with a third-inning run off Windy City starter Austin Wright. With two outs, Sam Montgomery singled and Jhiomar Veras doubled him home.
The ThunderBolts answered with some two out action of their own in the bottom of the third. Coco Johnson reached on an infield single and Mike Torres walked before Zach Esquerra came up with the first RBI hit of the year for the Bolts. He doubled off the right field wall to bring home two runs and give his team a lead they would not relinquish.
Esquerra helped the ThunderBolts score another run in the fifth when he singled with Torres at first. Torres made it into third and, when center fielder Ben Lodge bobbled the ball, scored to make it 3-1.
Veras brought the Greys within one in the eighth with his first home run of the year, but Joel Lima struck out the next three batters and James Jones worked a scoreless ninth for the save.
Wright (1-0) earned the win, allowing one run in six innings with seven strikeouts. Kyle Bogese (0-1) gave up two runs in 4.2 innings and took the loss in his first professional start.
The ThunderBolts take two days off before returning to action at Standard Bank Stadium on Tuesday night. The Schaumburg Boomers will be in town with former Boomer Danny Jimenez making his ThunderBolts debut on the mound. Schaumburg will counter with Brett Mabry. It is a $2 Tuesday as all tickets will be sold for only two dollars. First pitch is at 7:05 and the radio broadcast can be heard on wcthunderbolts.com.