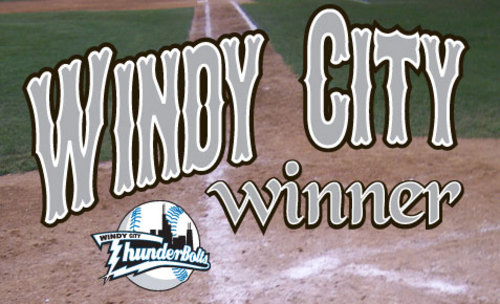 CRESTWOOD, IL – The ThunderBolts scored ten unanswered runs, including seven in the eighth inning to erase a 6-0 deficit and defeat the Frontier Greys 10-6 at Standard Bank Stadium Sunday night.
The Bolts faced an early deficit as the Greys scored three runs in the third inning. Five straight men reached as they loaded the bases with one out. Chris Ellison and Jon Minucci had RBI singles and Frank Florio hit a sacrifice fly.
They doubled their lead the following inning with three more runs. Ellison drove in two more runs on a two-out base hit and Minucci picked up another RBI single as well.
The ThunderBolts finally found a score in the fifth. Tony Viger reached on an error and Andrew Brauer singled him home to make it 6-1.
They made the game interesting with two runs in the seventh. With two men on, Kyle Robinson lined a double off the wall to score a run and Mike Torres scored on a Ryan Soares sacrifice fly.
The Bolts trailed 6-3 to start the ninth, when Davidson Peguero reached on a dropped third strike and Garrett Carey was hit by a pitch. Daniel Aldrich singled home Peguero and Mike McGuckin's sacrifice fly scored Carey to make it a one-run game. Torres dropped down a bunt to score Aldrich, tying the score, and with the bases loaded, Ryan Soares drove in the game-winning runs on a bloop single. They added two more on a Max White sacrifice fly and a Carey single to make the final score 10-6.
Jason Kafka (2-1) pitched a perfect eighth inning for the win and Jarett Leverett allowed four runs in the eighth for the loss.
The ThunderBolts take Monday off before beginning a four-game series Tuesday in Florence against the Freedom. Eli Anderson (1-6, 7.50) will start for the Bolts against Florence's Chuck Weaver (5-5, 2.01). First pitch is scheduled for 5:35 and the broadcast can be heard on WXAV 88.3 FM and wxav.com.