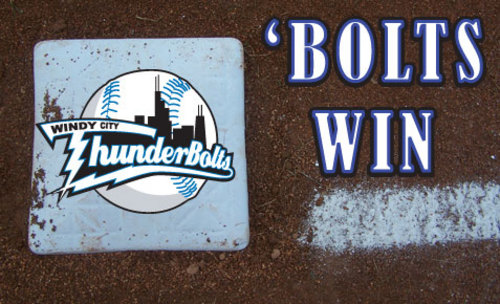 TRAVERSE CITY, MI –The ThunderBolts broke a 4-4 tie with a three run seventh inning on their way to a 7-4 victory over the Beach Bums at Wuerfel Park Sunday evening.
The ThunderBolts scored solo runs in each of the first four innings to amass a 4-0 lead. Evan Button and Mike Torres both singled in the first and Button scored the game's first run on an error. Torres's at-bat gave him an appearance in 287 consecutive ThunderBolt games, a league record.
An error factored in Windy City's second inning run as well, helping Doug Joyce score after he had singled earlier in the inning. The Bolts scored in the third on a Kyle Robinson RBI single and in the fourth on an Evan Button sacrifice fly.
Traverse City fought back with a run in the fourth on George Barber's run-scoring fielder's choice and one in the fifth on a Shaun Cooper sacrifice fly. The Beach Bums tied the score in the sixth inning. With runners on second and third and one out, pinch hitter Jake Rhodes came up with a two-run single to make the score 4-4.
The ThunderBolts were quick to respond with their three-run seventh. Jon Mestas, Button, Torres and Ryan Soares came up with singles in succession. Torres and Soares each drove in a run on theirs and Matt Scioscia's sacrifice fly finished the scoring.
Jessie Snodgrass and Daniel Carela threw the last three innings without allowing a hit to hang on to the 7-4 win.
Snodgrass (1-0) picked up the win while Tanner Tripp (0-1) allowed three earned runs in six innings for the loss.
The Thunderbolts will take Monday off before returning to action on Tuesday night at home against the Southern Illinois Miners. Victor Larez (0-0, 3.00) will start game one of the three game series against Southern Illinois' Matt Bywater (0-0, 2.53). First pitch is scheduled for 7:05 and fans not in attendance can hear the game broadcast on meridix.com.