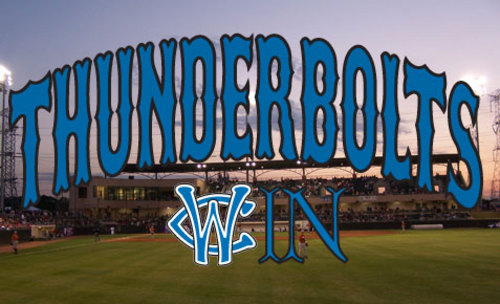 CRESTWOOD, IL – The ThunderBolts won their season opening game for the fourth time in the last five years, jumping on the Frontier Greys early on their way to a 5-1 win at Standard Bank Stadium Friday night.
They started the scoring in the third inning when Doug Joyce doubled and Mike Torres tripled him home. Then they added a run in the fourth when Ryan McIntyre hit a leadoff triple and scored on Kyle Robinson's base hit.
The ThunderBolts broke the game open in the sixth, scoring three runs on three hits. Torres led off with a single and Ryan Soares was hit by a pitch before McIntyre singled home the inning's first run. Robinson followed with his third hit of the night, a single that scored Soares. When the ball was bobbled by the left fielder, McIntyre scored as well, making it 5-0.
The Greys threatened to get back into it in the seventh, scoring their first run on an error, before they loaded the bases with one out. Jessie Snodgrass, who had walked the first batter he faced out of the bullpen, got Cameron Monger to ground into a double play to end the threat.
The Greys would threaten one more time, loading the bases against Daniel Carela in the ninth, but Carela got Chris Ellison to ground out to finish the Bolts' the 5-1 win.
Daniel Cropper (1-0) pitched 6.1 innings of one run ball, allowing six hits and no walks with four strikeouts for the win and Justin Jackson (0-1) allowed four earned runs in five innings for the loss.
The ThunderBolts and Greys will be back at it for game two of a three-game set on Saturday afternoon. Jake Fisher will make his Windy City debut on the mound and he will be opposed by Greys right-hander Clint Wright. The game will begin at 6:05 CDT and will feature a fireworks show upon its conclusion. Fans not in attendance can listen to the broadcast on WXAV 88.3 FM and wxav.com.