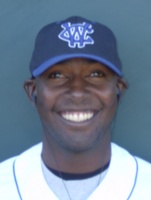 Dustin Pease came within one out of his fifth complete game of the season and Gilberto Mejia scored two runs as the Windy City ThunderBolts topped the Evansville Otters 3-2.
The win keeps the Bolts 1/2 game up on River City for the final playoff spot in the Frontier League and pulls Windy City within a single game of Southern Illinois for the division lead.
The Bolts got on the board in the second inning as with Kraig Binick on first, Bryan Cook executed a perfect hit and run single to move Binick to third. Things looked like they were about to end poorly for Windy City after a double play, but the Bolts were able to get the run in as Marcus Rose misplayed a ball at second, scoring Binick for a 1-0 lead.
Windy City scored a more conventional run in the third as Gilberto Mejia led off with a triple followed by a single from Robert Perry, making it 2-0 Bolts. The triple was a historic one for Mejia, who became just the tenth player in FL history with 10 or more triples in a single season.
An RBI groundout by Pete Paris in the fifth made it 3-0 ThunderBolts. It would stay that way until Evansville made it interesting in the ninth as the Otters would bring home two unearned runs before Nick Hall came in to shut the door and preserve the victory.
Dustin Pease was superb for Windy City going 8.2 innings allowing just the two unearned runs on seven hits, walking one and striking out nine. John Ducey (3-10) pitched his third complete game of the season for Evansville in the loss
The middle game of the series is on Saturday with Ricky Meinhold (3-2, 3.52) on the mound for Windy City against Stephen Brock (2-2, 3.51) for the Otters. It is the final fireworks show of the regular season for the ThunderBolts. Windy City will be hosting a bus trip to Rockford for the final regular season home game on Sept 6. Tickets for the trip are $60 and include transportation to and from the game, a sandwich from Jimmy John's and beverages on the bus. To book your spot on the bus, contact Steve Lorenz in the ThunderBolts office. For game times, information or tickets, call 708-489-BALL or visit the team's website at www.wcthunderbolts.com