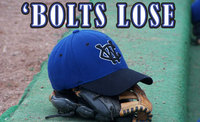 MARION, IL – Will Block's walk-off home run in the tenth inning ended the ThunderBolts' bid for their first series win in Southern Illinois in over three years. The Miners defeated the Bolts 6-5.
The game started well for Windy City. Brandon Decker hit a two-run homer in the second to go ahead 2-0.
Southern Illinois answered with a run on a Carlos Mendez sacrifice fly in the bottom of the second.
Windy City extended their lead to 4-1 in the fifth inning. Jareck West and C.J. Gillman hit back-to-back home runs to give the ThunderBolts a 4-1 lead.
Again the Miners were quick to respond. They got a run in the fifth on an RBI groundout from Alvaro Ramirez. They added a single run in the sixth on Cannon Lester's sacrifice fly and tied the score in the bottom of the seventh when Javier Herrera crossed the plate on a wild pitch.
Windy City reclaimed the lead in the eighth. Mike Torres and Chad Cregar hit back-to-back singles to put runners at first and third with no outs. Decker's sacrifice fly made it 5-4.
For the second straight night, the ThunderBolts lost an eighth-inning lead. With two on and two out, Herrera grounded a single to left field, scoring Block and tying the score at five.
After the Bolts did not get a baserunner in the ninth or tenth, Block led off the bottom of the tenth inning with his fifth home run of the year to give the Miners the 6-5 win.
Brandon Cunniff (3-0) pitched two perfect innings for the win and Willy Kesler (1-2) gave up the winning homer, taking the loss.
The ThunderBolts will return home on Tuesday for their final scheduled home series of the season. The Lake Erie Crushers will be their opponents in the three-game series that begins on Tuesday night at 7:05 at Standard Bank Stadium. Tyson Corley (4-8, 2.80) will start for Windy City against Lake Erie's Matt Smith(1-0, 1.29). The broadcast can be heard on WXAV, 88.3 fm and wxav.com.

Box Score