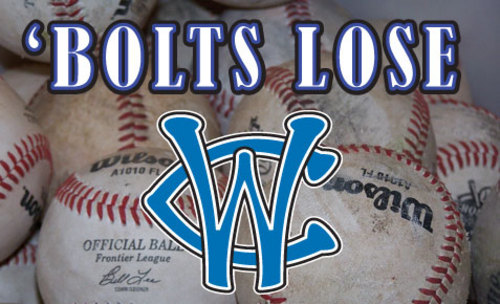 It just wasn't the ThunderBolts' night on Friday when they fell 14-3 to the Washington Wild Things in the first road game of the season.
The game started out promising enough when Windy City loaded the bases in the top of the first with two outs. But Vinnie Scarduzio grounded out to end the threat and it was all Washington after that. Windy City starter Rob Roth struggled with his command in his second start and only lasted 0.2 innings. He walked the first five batters he faced and ended up allowing three earned runs.
Ryan Rowe came on and got out of the first, but had trouble of his own when the Wild Things scored three more times in the second and put the game away with three more in the third.
Washington got home runs from Adam Amar, Chris Raniere and Alan Robbins in the victory, and only failed to reach the scoreboard in two innings, the sixth and the seventh. They also got a very good effort out of their starting pitcher, Steve MacFarlane. He went six innings and allowed just three hits and no runs while striking out ten. Quinn Bright picked up the save by finishing the final three innings of the ten run victory.
The Bolts did get a little silver lining when J.T. Restko hit a bases loaded double to knock in three runs in the eighth, but that was about the only positive in a rough loss for Windy City.
Windy City and Washington go head to head in game two of the three game series on Saturday night. The pitching matchup is Brent Solich (0-1) going for the ThunderBolts against Zach Rosenbaum(0-0). The game will be aired on SportsJuice.com with pregame coverage to begin at 5:50.