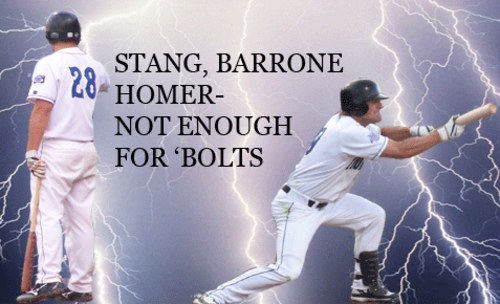 CRESTWOOD -- The Windy City ThunderBolts (17-16) couldn't hold a 10-4 lead as the Rockford RiverHawks (16-17) came back to beat the 'Bolts 11-10 in front of a crowd of 909 at Standard Bank Stadium on Tuesday night.
The ThunderBolts scored one run in the first inning to tie the game at 1-1 before putting up a five-spot in the second. The rally chased starter Jason James from the game, who was hitting for himself in the third spot. The early exit caused a slew of double switches and pinch hitters as the game went along for Rockford.
Corey Stang started the scoring in the second with his third home run of the year. Wes Long contributed a two-run double before Phil Hawke hit an RBI-single to cap the inning. Hawke ended the day 3 for 4 at the plate to extend his hitting streak to 11 games.
Rockford made it 6-4 in the fourth, but the 'Bolts came back with four runs in the fourth. Stang delivered his second RBI of the game with a single to score Hawke. Ben Barrone highlighted the inning with his third home run of the season, a bomb to left field to make it 10-4.
The RiverHawks came back with four runs of thier own in the top of the fifth before tying the game at 10-10 with two more in the sixth. Isaac Hess (1-3) struck out the side in a perfect seventh but gave up the game-winning run in the eighth. After Robert Sabates reached first with an error by Josh Horn with one out, Aaron Davis flew out to left. Chris Raber then walked and Brad Dutton reached with an infield single. Sabates then came home to score the go-ahead run on a wild pitch. The run also made a winner out of reliever Tim Flattery (1-0). Roy Bringelson pitched the final four outs to pick up his fourth save of the year.
The ThunderBolts will now start a quick three-game road trip in O'Fallon, Missouri to battle the first place River City Rascals. First pitch is at 7:05 and it will be Adam Dominick (1-0, 6.75) on the mound to get the start for Windy City.