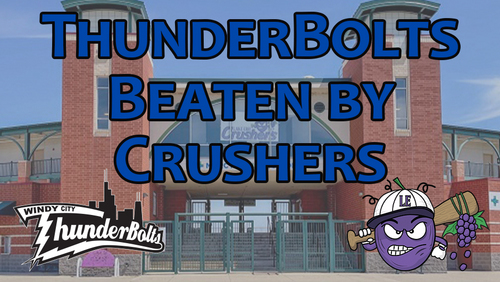 AVON, OH – The tough road trip continued Tuesday night for the ThunderBolts (31-53) as they opened a 3 game series with the Lake Erie Crushers (43-42) at Mercy Healthcare Stadium with a 10-7 loss.
The ThunderBolts got the scoring started early in the game. Jumping on Crushers' SP Kevin Holcomb early, Jake Boone walked with one out in the first inning. Brynn Martinez promptly singled, and Bren Spillane belted his 11th home run of the year. After Brian Klein went back-to-back with Spillane, the Bolts took a commanding 4-0 lead.
It wouldn't last, however. Bolts' ace and SP Kenny Matthews was forced to leave the game after the 1st inning with an apparent injury, causing manager Brian Smith to use five different ThunderBolts' pitchers out of the bullpen throughout the night.
All told, the Windy City staff walked 9 Crushers hitters and surrendered 11 total hits, including three each to Connor Owings and Jackson Valera. DJ Stewart delivered the big blow offensively in the 3rd inning for Lake Erie, belting a 3-run homerun.
Dazon Cole (L 1-3) took the loss despite nearly working around a Brian Klein error that put runners on second and third with nobody out in the bottom of the 6th inning. Windy City had tied the game at 7 all in the top of the frame before a leadoff single and the error led to early trouble in the bottom half. After inducing a strikeout of Austin White and getting DJ Stewart to pop out, two consecutive walks forced in a run to make it 8-7. The Crushers added two more in the final two innings, and Elliot Carney, Sam Curtis and Alexis Rivero (S, 17) shut the door on Windy City in the 7th, 8th and 9th innings.
The Thunderbolts' 9 game road-trip continues tomorrow evening, with game 2 of the series against the Lake Erie Crushers. First pitch scheduled for 6:35 PM. Broadcast information can be found at wcthunderbolts.com.