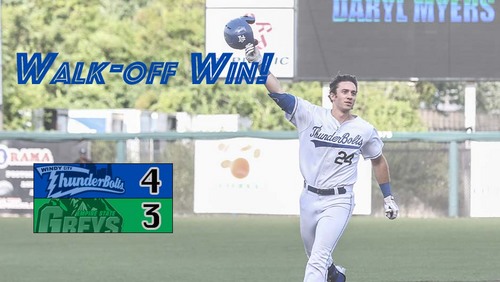 CRESTWOOD, IL – Daryl Myers's two-run double capped a three-run ninth inning for the ThunderBolts as they came from behind for a 4-3 win over the Empire State Greys at Ozinga Field Sunday afternoon.
Dan Robinson scored the first run of the game in the bottom of the third. After drawing a walk, he came home on a Peyton Isaacson single. That gave the ThunderBolts (25-40) their first lead of the series.
That lead held until the top of the fifth. Paul Mondesi reached on an error for Empire State (5-61) and Jose Mercado hit his first home run of the season to make it 2-1.
The Greys tacked on a run in the eighth as Camden Williamson walked and Willie Estrada singled him home.
On the verge of the first sweep in franchise history, the Greys shut down the Bolts' bats after the third-inning run. It wasn't until the ninth that Windy City got rolling. Matt Morgan and Nikola Vasic led off with back-to-back doubles to make it a one-run game. After Jake Boone walked, Myers provided the big hit of the game, a line drive into the right-centerfield gap that brought home the final two runs, snapping the ThunderBolts' five-game losing streak.
Bryan Ketchie allowed just one earned run over 6.1 innings but didn't factor in the decision. Layne Schnitz-Paxton (3-3) took the win, striking out the side in his lone inning. Jeff Rotz (0-1) allowed the final run for the loss.
The ThunderBolts are off on Monday before they return to the field to take on the Joliet Slammers, starting a two-game series on Tuesday. Game one will be on Value Tuesday at Ozinga Field with all tickets and hot dogs going for just $2. Kenny Mathews (4-3, 3.76) is the Bolts' scheduled starter. First pitch is slated for 2:05 CDT and the broadcast can be found through wcthunderbolts.com.