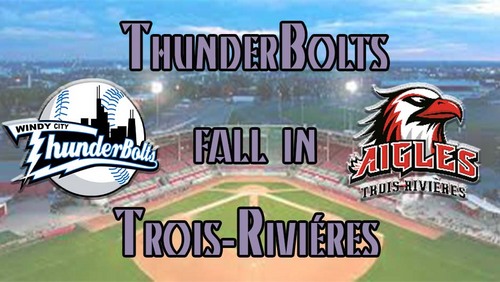 TROIS-RIVIÉRES, QUEBEC – The ThunderBolts nearly overcame a six-run deficit but came up one run short in a 7-6 defeat to the Trois-Riviéres Aigles at Stade Quillorama Thursday night.
The Aigles (34-29) wasted no time in taking a multi-run lead. After scoring a quick run on a wild pitch, a two-run single from Elliott Curtis made their first-inning lead 3-0. Juan Kelly homered in the second to extend the lead by two runs.
After another run-scoring wild pitch made the deficit 6-0, the ThunderBolts (24-38) began to make their move. They got two runs on an error in the fifth to make it a four-run game.
L.P. Pelletier's RBI double gave Trois-Riviéres a much needed insurance run but the Bolts plated three more in the eighth. Matt Morgan hit a two-run single and Peyton Isaacson doubled home Morgan to make it 7-5.
With one out in the ninth inning, Payton Robertson and Joshuan Sandoval hit back-to-back singles to put the tying run on base. Dan Robinson came through with an RBI single to make it 7-6. With the tying and leading runs on base and one out, Christian Allegretti retired Brian Fuentes and Jairus Richards to end the game.
Sam Poliquin (5-4) was the winning pitcher. He did not allow an earned run over six innings. Jack Alkire (1-4) allowed six runs (four earned) in four innings and took the loss. Allegretti picked up his second save.
Following the all-star break and a six-game road trip, the ThunderBolts will play their first home game in 12 days on Friday night. It is Shark Night at Ozinga Field featuring a shark airplane glider giveaway to the first 500 kids and a can koozie giveaway to the first 500 adults 21 and over, courtesy of JULIE, Inc. The Bolts will get their first ever look at the Empire State Greys with first pitch scheduled for 7:05. The broadcast can be found through wcthunderbolts.com.