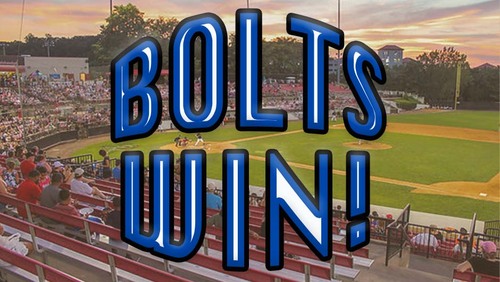 LITTLE FALLS, NJ – The ThunderBolts posted their second highest run output of the year as they pulled away from the New Jersey Jackals for a 15-4 win in the series finale at Yogi Berra Stadium Sunday afternoon.
They jumped on the board early for the third straight day, getting two runs in the first, one on an error and the other on a Payton Robertson RBI single. That was the first of four hits on the day for Robertson.
New Jersey (29-30) got one run right back on a Trevor Abrams RBI double in the second but that was the last time the Jackals were close.
The ThunderBolts (24-35) began to pull away in the fifth as Matt Morgan homered and Dan Robinson hit a two-run single. They added a single run in the sixth inning and Brynn Martinez hit an RBI single as part of a two run seventh.
The final two innings made it a runaway as Brian Fuentes brought home two runs on an eighth-inning single and Robinson hit a ninth-inning grand slam to give him six RBIs in the game and the ThunderBolts an 11-run lead.
After struggling to score in the first two games out of the all-star break, the Bolts wrapped up the series with 16 total hits on Sunday, including at least two from six different players.
Garrett Christman (2-4) allowed four runs in six innings and picked up the win while Nicholas DeSalvo (1-4) lasted just 4.2 innings, allowing five runs to take the loss.
The ThunderBolts will try to keep their momentum going after a Monday off as they continue their road trip on Tuesday in Trois-Rivieres. It will be the Bolts' first trip to Canada since 2012 as they get their first look in franchise history at the Trois-Rivieres Aigles. First pitch for the series opener is scheduled for 6:05 CDT and the broadcast can be found through wcthunderbolts.com.