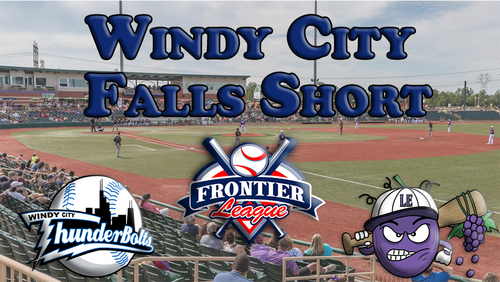 AVON, OH – The ThunderBolts' bid for a four-game sweep came up short Monday afternoon as they fell to the Lake Erie Crushers 7-5 at Mercy Health Stadium.
For the first time in the series, Lake Erie (40-50) scored first. They got a first-inning run when Shawon Dunston, Jr. walked, stole a base and came home on a double play.
Logan Wiley retired six straight batters after the first-inning score but, after giving up back-to-back hits in the third, saw Karl Ellison single home two runs to make it 3-0 Lake Erie.
The ThunderBolts (41-50) fought back in the fourth. They loaded the bases on a walk, a hit batter and a single and John Sechen knocked in two runs on a single, making the score 3-2.
Zach Racusin hit a two-run homer to distance Lake Erie's lead to 5-2 but the ThunderBolts came back again. They scored single runs in the seventh and eighth, getting an RBI double from Rob Weissheier on a popup that dropped among five Lake Erie defenders. Jace Mercer's RBI single brought the Bolts to within 5-4.
Lake Erie put the game away in the bottom of the eighth when, with two runners on, Racusin hit a potential double play groundball that was misplayed by Jack Strunc. The error scored a run and the Crushers tacked on one more to make it 7-4.
The Bolts had one last chance in the ninth and put the tying run on base with a single and two walks. A wild pitch scored one run but two more were left on base as the game ended. They left 14 men on base in the game.
Ean Walda (3-0) pitched three innings of relief for the win, Logan Wiley (6-3) allowed five runs in six innings for the loss and Daniel Kight picked up his seventh save.
The ThunderBolts return home to begin their final homestand of the year on Tuesday night as they host the Gateway Grizzlies on Value Tuesday. All tickets and hot dogs are just two dollars. Bryan Ketchie (2-6, 5.14) will make his last start of the year for the ThunderBolts with first pitch scheduled for 7:05. Tickets as well as links to the audio and video broadcasts can be found at wcthunderbolts.com.