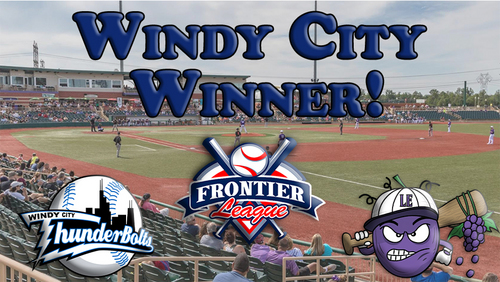 AVON, OH – The ThunderBolts took advantage of wildness from Lake Erie pitching Friday night as they took 12 walks and defeated the Crushers 7-4 at Mercy Health Stadium Friday night.
The tone of the game was set right away as Payton Robertson led off with a four-pitch base on balls. Dan Robinson followed with a walk and both men advanced on a wild pitch. Rob Calabrese's groundout scored the first run of the game. Rob Weissheier doubled the lead with an RBI base hit.
Two more walks and a Robertson stolen base put a runner at third for the Bolts (39-49) in the second inning and again Calabrese scored a run on a groundout.
Miguel Ausua started strong for the ThunderBolts but Lake Erie (39-48) got to him in the fourth. With a man at first base and two outs, Nick Rotola homered to left field. Javier Betancourt followed with a solo blast to left. The back-to-back homers tied the score at three.
The ThunderBolts wasted no time in taking the lead back. Calabrese hit a leadoff double in the fifth and scored on a Zac Taylor double. Jack Strunc's two-bagger was the third of the inning and brought home two more runs to make it 6-3.
The final insurance run came in the seventh without a hit. The bases were loaded with two walks and an error and Robertson drew his third free pass of the night to force home a run.
Lake Erie got one more run with Zach Racusin singling and scoring on a Karl Ellison double in the eighth but they never brought the tying run to the plate.
Ausua (8-5) pitched six innings and struck out six for the win. Dillon Larsen walked seven over 4.1 innings and took the loss. Ryan Hare threw a scoreless ninth for his second save.
Game two of the series from Mercy Health Stadium is scheduled for Saturday night. Tyler Thornton (4-8, 3.32) gets the start for the Bolts against Lake Erie's Jake Pilarski (3-3, 5.69) with first pitch scheduled for 6:05 CDT. Links to the audio and video broadcasts can be found at wcthunderbolts.com.