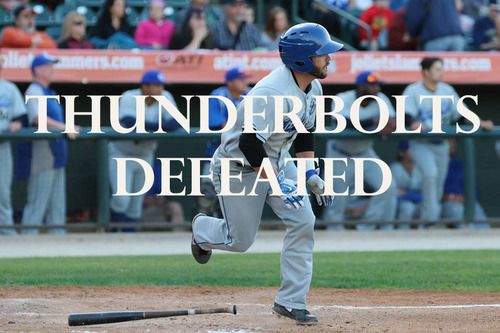 WASHINGTON, PA – Hector Roa was hit by a pitch with the bases loaded in the bottom of the 11th inning as the Washington Wild Things beat the ThunderBolts 3-2 in game one of a three-game set at Wild Things Park Tuesday night.
The ThunderBolts (12-27) took an early lead when Matt Brown singled to lead off the top of the third inning. He stood at second when Axel Johnson singled him home with two outs to put the Bolts ahead 1-0.
Jake Welch cruised through five innings on the mound for Windy City but walked two men in the sixth. With two outs, Roa doubled home both men to give the Wild Things (25-15) their first lead.
The Bolts wasted no time in tying it up as Tim Zier came up with a two-out RBI single in the top of the seventh.
In the top of the ninth inning, singles for Omar Obregon and Johnson, his fourth of the game, and a Zier hit by pitch loaded the bases with one out. Zach Strecker, though, struck out Larry Balkwill and Riley Krane sent a screaming liner to the right side but was robbed by a leaping Reydel Medina to end the threat.
In the 11th inning, each team started with a man at second base for the tiebreaker rule, but the ThunderBolts did not score. The Wild Things opened with a walk and, after the first out was recorded, a wild pitch moved the runners to second and third. This led the Bolts to issue an intentional walk to Medina. The next batter, Roa, was hit to end the game.
Sam Mersing (1-0) secured the win with a scoreless inning and Joel Toribio (0-2) took the loss. The Bolts outhit Washington 11-4 but left 15 men on base in the loss.
The two teams meet up again on Wednesday morning with a 10:05 first pitch. Connor Bach (0-1, 12.00) makes the start for the ThunderBolts against Washington's Trevor Bradley (2-0, 3.41). The radio broadcast can be heard on WXAV 88.3 FM and wxav.com.