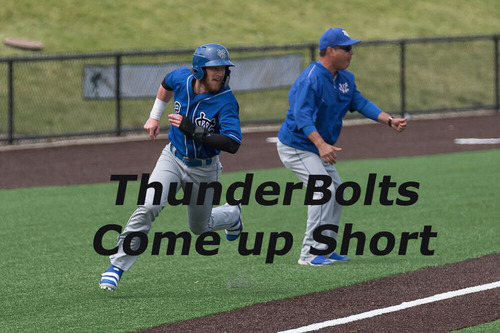 SCHAUMBURG, IL – The ThunderBolts were held to two hits but put the tying run in scoring position in the ninth inning before ultimately falling in the opener at Schaumburg to the host Boomers 4-3 Tuesday night.
The Bolts (8-12) struck first as their first three batters all reached base safely. Will Krug was hit by a pitch and Tim Zier and Tyler Straub each walked to load the bases before Riley Krane's groundout scored the first run.
Schaumburg (9-12) tied it up with a run in the second inning. Kenny Towns singled and stood at second base with two outs when Jack Parenty singled him home.
Two more runs for the Boomers the following inning gave them their first lead. An RBI groundout from Towns made it 2-1 and an RBI single from Zack Weigel made it a two-run game.
ThunderBolts starter Paddy Ledet had to pitch around baserunners in each of the first five innings as the Boomers got him for ten hits, but he kept the game close until Schaumburg put Ty Moore at third base on two singles and a steal in the fifth. On a grounder to short, Moore came home and slid in just ahead of the tag to give the Boomers a 4-1 lead.
After getting just one hit off of Steven Ridings in seven innings, the ThunderBolts challenged the Schaumburg bullpen. After Ransom LaLonde walked and Darius Day singled, LaLonde would come in to score on an error. After two stolen bases, Day made it a one-run game on a passed ball.
David Oppenheim walked with two outs in the ninth and stole second but Jake Joyce got the final out to wrap up his third save.
Ridings (2-2) earned the win while Ledet (2-1) allowed four runs in six innings to take the loss.
Game two of the series will be played at 6:30 on Wednesday night. Jaramy Jacobs (0-2, 6.40) gets the start for the Bolts against Schaumburg's Joe Hauser (2-0, 2.16). The broadcast from Boomers Stadium can be heard on WXAV 88.3 FM and wxav.com.