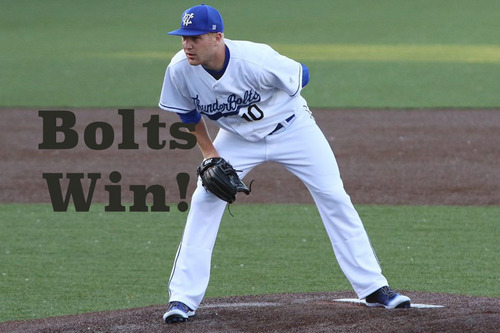 CRESTWOOD, IL – Three runs in the fourth inning was plenty of support for ThunderBolts starter Brady Muller, as Windy City erased a four-game losing streak with a 3-0 win in front of 3,281 fans at Standard Bank Stadium Saturday night.
The story of the evening surrounded Brady Muller (5-1). The 24-year-old left-handed pitcher learned his contract was selected by the Arizona Diamondbacks after Bolts manager Ron Biga pulled him in the eighth inning.
Muller is the third ThunderBolts (18-15) pitcher selected by a major league affiliated club in a week. Kyle Von Ruden went to the White Sox, while Kevin Lenik was purchased by the Royals.
As for the game, all the offense came in the fourth inning off Rascals (17-15) starter Tim Koons (2-3). Coco Johnson led off with a single, and with one out Kyle Wood reached on a single of his own to put runners on first and second for Larry Balkwill.
Windy City's team leader in slugging and RBI's smoked a double in the left-centerfield gap that scored both Wood and Johnson. Austin Darby followed with a double down the left field line that scored Balkwill.
Brady Muller was in command throughout the entire contest. He had faced the minimum through 6.2 innings and faced one batter in the eighth before being pulled from Independent ball.
It took the Rascals until the seventh inning to get a man into scoring position and never had a runner reach third base.
Scott Kuzminsky relieved Muller in the eighth inning and retired all three batters he faced. Brian Loconsole pitched a flawless ninth inning to notch his league leading 12th save of the year.
The Bolts and Rascals have not announced a starting pitcher for tomorrow's rubber game. There will be baseball played on Father's Day, along with an animal show courtesy of Animals for Awareness of Palos Park at Standard Bank Stadium. First pitch is scheduled for 2:05 P.M. and the game broadcast can be heard through wxav.com and 88.3 FM Chicago.