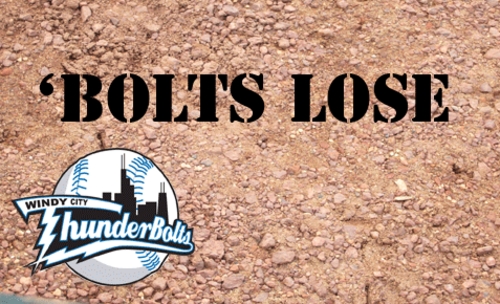 O'FALLON, MO – Doug Sanders put the River City Rascals ahead 6-5 with an eighth-inning RBI single Sunday night and the ThunderBolts lost the final game of the 2012 season by the same score at T.R. Hughes Ballpark.
The Bolts had been eliminated from playoff contention earlier in the day with Southern Illinois' win over Lake Erie.
The ThunderBolts jumped out to a 1-0 lead in the second. With runners at the corners and two outs, Zach Aakhus stole second and Brandon Decker scored on a wild throw.
River City came back with four unanswered runs. Jason Patton's two-run double in the third made it 2-1. They added two-more runs in the fourth. Pitcher Keli'I Zablan picked up his first career RBI on a double and he was knocked in by Eric Williams.
The Bolts chipped away with two runs in the fifth. With Jareck West at second base and two outs, Bob Glover picked up an RBI single. Glover took second on the throw and scored on a C.J. Gillman base hit.
The Rascals made it 5-3 in the bottom of the fifth on a Jeremy Synan RBI double before the Bolts were able to come back and tie the score. Zach Aakhus singled to deep left field to score Brandon Decker in the sixth making it a one-run game. The score was tied the following frame when Chris Wade's fifth home run of the year made the score 5-5.
In the eighth, River City put runners at the corners with one out, when Sanders won the game with his base hit.
Justin Gill (4-3) picked up the win in relief for River City and Andy Mee (3-3) took the loss for the Bolts.
The Bolts will head into the offseason after this after finishing the year with a 54-42 record. They will return to Standard Bank Stadium in May of 2013.

Box Score