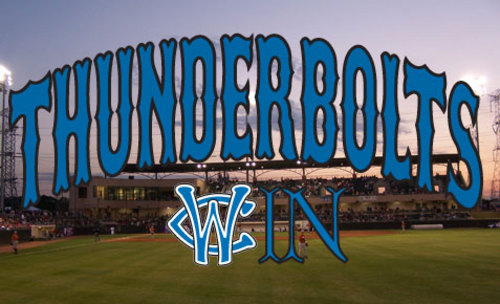 For the second straight night, Windy City's pitching baffled the Evansville Otters hitters and the ThunderBolts won their 14th straight home game, 2-1 Wednesday night at Standard Bank Stadium.
The Bolts found themselves in a hole after the Otters scratched across a run in the third inning on a Brian Kolb walk followed by an RBI Jarred Ball double.
The Evansville lead did not last long. Their starter, Chad Edwards had his only control issues in the bottom of the third when he walked back-to-back hitters, his only two walks of the game. Brandon Anderson's single then knocked in Michael Torres to tie the score.
The next inning, Zach Aakhus doubled with one out. It was the last hit the ThunderBolts would get in the game. Aakhus moved to third, though, on a Kolb error and scored on Torres's fly ball to center. The fourth inning tally ended the scoring for the day.
Dustin Williams threw the first six innings for the Bolts and struck out seven batters, allowing just one run on four hits. Rod Scurry relieved him and threw two scoreless frames before Nick Hall came on for the save. It got a little nerve-wracking for the Bolts as a single and a walk put runners at first and second with one out. Hall, however, picked Vinnie Scarduzio off at second base and Andre Alvarado flew the next pitch out to right to end the game.
Williams picked up his fifth win, improving to 5-3 while Edwards was the tough luck loser, falling to 2-5. The ThunderBolts were outhit in the game 6-2. Hall was credited with his 12th save of the year.
The Bolts and Otters conclude their series on Thursday at 7:05. It is Bud Light Thirsty Thursday with one dollar draft beer as the ThunderBolts wrap up their short home stand. If you cannot make the game, it will be broadcast on Sportsjuice.com.