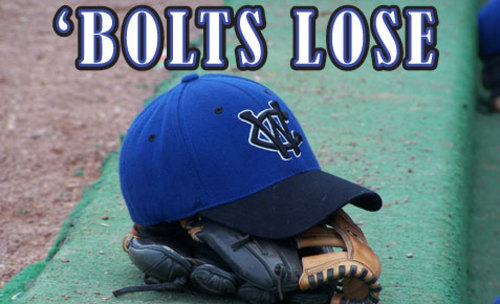 The ThunderBolts lost a six-run seventh-inning lead Saturday night and fell to the Kalamazoo Kings for the second straight night, this time in 11 innings, 9-8 in Kalamazoo.
The Bolts jumped out to an early lead when Brandon Anderson walked and scored on a Ryan Basham first-inning double. They posted three more runs in the second on three hits and a big error. The bolts got their second streal of home in as many nights when Michael Torres scored on a stolen base.
Windy City eventually went on top 7-1 when they got two RBI groundouts from Basham and an RBI double from Mejia, but they could not hold it.
Rod Scurry made his Windy City debut in the seventh inning, and despite not getting hit hard, allowed three runs on three singles and a double. That made the score 7-5. Windy City got a big ninth-inning insurance run when Nick Kuroczko singled and scored on a Zach Aakhus ground out.
Nick Hall, though, could not hold the lead in the bottom of the inning. After a walk and a single, Matt Maloney's double made the score 8-7 and Matt Greener's single tied up the game. It was Hall's third blown save since the all-star break, during which time he has a 6.75 ERA.
The game remained tied into the 11th when a Lee Rubin single and Jeff Helps double put runners on second and third with one out. Ryan Quigley intentionally walked Bryan Marquez before the unintentional walk if Bryan Marquez ended the game, with Kalamazoo taking the 9-8 victory. Mike Zenko picked up the win (1-0) and Quigley took the loss (2-4). It is the first time the ThunderBolts have lost consecutive games since July 16 and 17.
The two teams wrap up this series in a matinee on Sunday. The 12:05 game features a pitching matchup of Richard Barrett (5-2) against the Kings' Josh Whitlock (1-9). The game can be heard on WXAV 88.3 fm and wxav.com.