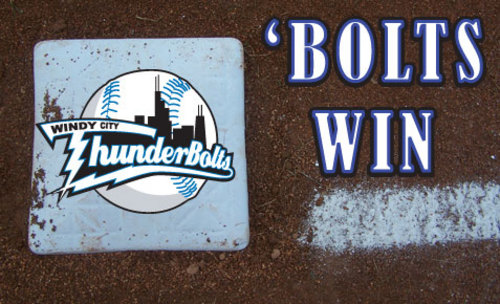 The ThunderBolts won their eighth consecutive game Wednesday night and Sean Toler won his fourth straight start as the Bolts took down the Lake Erie Crushers 7-4 at Standard Bank Stadium.
The early innings went back and forth with Windy City scoring first in the second. Michael Torres's bunt single drove in Zach Aakhus. The Crushers took the lead in the third, scoring two runs on a Wayne Bond single followed by a Dom Duggan RBI double. Duggan scored on Raphael Turner's sacrifice fly.
In the fourth inning, Windy City took the lead back when two singles and a walk loaded the bases for JT Restko, who was hit by Matt Smith to bring in a run. One more scored on a wild pitch.
But once again, Lake Erie responded immediately. The Crushers got another sacrifice fly from Turner to tie the score. That was the last time they were in it, though, as the Bolts put a four spot on the board in the bottom of the fifth.
In a very sloppy inning, Windy City was aided by three Crusher errors and a run-scoring balk. An RBI single from Ryan Basham also contributed to the ThunderBolts' inning. They sent eight men to the plate and also got a big hit from Jeremy Hamilton.
Toler went six innings for Windy City and was relieved by Ryan Quigley, who pitched two innings, allowing one run on a Bond RBI double. Greg Johnson struck out all three hitters he faced in the ninth for his first save of the year as the Bolts won for the 15th time in 16 games. Toler improved to 4-0 while Smith fell to 7-5.
Windy City goes for its second straight perfect home stand Thursday night in the finale against Lake Erie. It is Bud Light Thirsty Thursday at Standard Bank Stadium with domestic draft beers selling for $1. Dustin Williams (4-3) takes the mound for the Bolts against Alberto Rolon (2-3). The ThunderBolts vs. the Crushers can be heard on Sportsjuice.com.