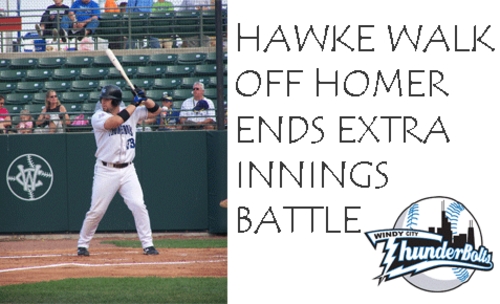 CRESTWOOD -- Phil Hawke's sixteenth homer of the year in the bottom of the twelfth inning gave the Windy City ThunderBolts (40-31) a 5-4 victory over the Midwest Sliders (20-50) on Thursday night at Standard Bank Stadium.

Hawke crushed a 2-1 curveball from Matt Dahlin (0-1) over the right-center field fence for the walk-off win. It was the eighth win in a row for the ThunderBolts who finished their nine-game home stand with an 8-1 record.

The pitching was the key to success for WIndy City on Thursday as Ross Stout went 9.0 innings gving up two earned runs, giving up ten hits and striking out seven. The bullpen was brilliant throwing three scoreless inning as Anthony Rebyanski and Matt Petty each struck out the side in their inning of work. Alain Quijano (1-1) pitched a perfect twelfth inning to earn the victory.

The ThunderBolts had to come back in the game, as they trailed 4-1 going into the seventh inning. However, a Scott BIllak RBI-single and an RBI-fielder's choice by Mike Coles set up a crucial mistake by Midwest. With a runner at third, Hawke hit a fly ball to left field that Jonnie Knoble couldn't handle. The dropped fly ball allowed the tying-run to score and let Hawke reach first base.

Windy City will now get ready for a short three-game road trip in Washington, PA to battle the Wild Things. First pitch of that game is set for 6:05 p.m. CDT on Friday night. The pitching match-up will feature RHP Adam Dominick (2-2, 6.82) for Windy City against RHP J. J. Hollenbeck (4-3, 3.51) for Washington.