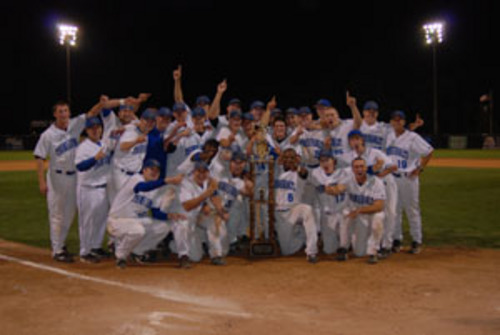 CRESTWOOD, IL – A journey that started on May 23rd with a 14-11 victory over the Rockford RiverHawks has come to its conclusion on September 17th for the Windy City ThunderBolts. After trailing 2-0 in their Frontier League Championship Series with the Washington Wild Things, the Bolts completed an improbable comeback on Monday night, dominating in a 10-3 win that sealed the first championship in franchise history.
The outcome was never in doubt. Washington lefty Tom Cochran (0-1) trailed from the outset, serving up a Rob Marconi homer on his first pitch of the ballgame that game the Bolts a 1-0 lead. The Bolts would score all the runs they needed in the second inning, with the first three ThunderBolts who came to the plate knocking hits and scoring runs. Cochran would not be around to see the end of the inning, getting pulled from the game with one out as the Bolts raced to a 5-0 lead.
Two more ThunderBolts would score on a Scott Billak double – his second of the night – in the third inning and the rout was on at 7-0. Washington came back with one run in the fourth and two in the fifth while the Bolts came back with one in the fourth to make the score 8-3.
Windy City starter Shawn Phillips would need nothing more. The star righty was solid through his 6 2/3 innings, wheeling and dealing 131 pitches en route to his second win of the postseason. He got some more insurance from his offense in the eighth, with a Billak solo home run highlighting the two-run frame that saw the lead increase to seven at 10-3.
Relievers Isaac Hess and Matt Petty combined to throw the final 2 1/3 innings to preserve the win. When Jarod Rine grounded out to Gilberto Mejia in the ninth inning, the celebration was on. Petty was mobbed at the pitcher's mound as the Bolts celebrated the team's first championship. The franchise had not had a winning a season since its inception in 1999.