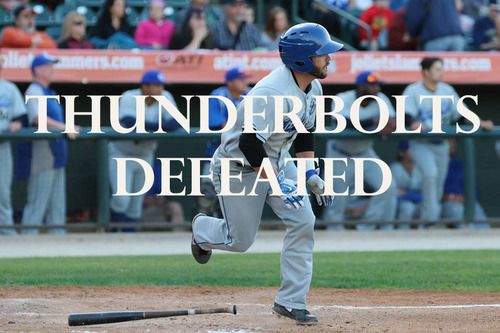 SCHAUMBURG, IL – The ThunderBolts were unable to hold a 3-0 lead as they fell to the Schaumburg Boomers 4-3 in the opener of the final series of the season at Boomers Stadium Friday night.
Windy City (41-52) got on the board in the first inning as Tim Zier singled and scored on a two-out double from Kyle Wood double.
They added a run in the fifth as Larry Balkwill walked, stole second and came home on a two-out base hit from Coco Johnson.
The sixth inning saw the Bolts take their largest lead of the night as Wood singled and advanced to third when Ransom LaLonde reached on an error. Blair Beck's RBI single made it a 3-0 game.
Zac Westcott had only allowed two Schaumburg hits through five innings before the Boomers (40-54) got to him in the sixth. Kenny Towns singled and Jordan Dean doubled him home. Westcott departed and Mikal Hill made it a one-run game with an RBI single off of Tyler Murphy.
The Bolts were unable to pad their lead despite loading the bases with no outs in the seventh. They stranded a runner at third base in each of the last four innings.
Schaumburg tied the score and took their first lead in the bottom of the eighth. With two outs, Mark Nelson walked, Mike McClellan singled and Hill and Tobias Moreno came up with back-to-back RBI base hits.
The Bolts had one more chance as Johnson led off the ninth with a single and stole two bases. He had four steals in the ballgame. Dexter Price ended the game by inducing a double play from LaLonde, netting his 15th save.
Evan Boyd (2-0) retired the only two batters he faced for the win and Cameron Giannini (1-3) took the loss, allowing two runs in the eighth.
The ThunderBolts and Boomers continue their series on Saturday night. Game two will feature Jayson Yano (0-3, 4.70) on the hill for the Bolts against Schaumburg's Kagen Hopkins (5-5, 3.66). First pitch from Boomers Stadium is scheduled for 6:00 and the broadcast can be heard through wcthunderbolts.com.