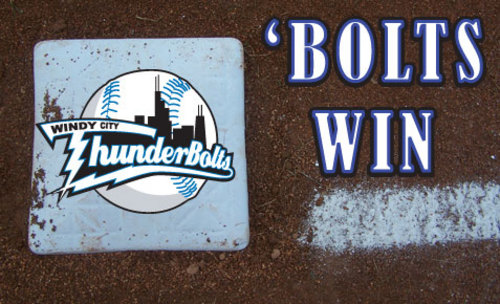 JOLIET, IL – Austin Wright held the Joliet Slammers to only four hits over seven innings as he helped the ThunderBolts to a 3-1 win at Silver Cross Field Saturday night.
Wright ran into some early trouble when the Slammers loaded the bases with one out in the second but he forced Sam Klein into a double play to end the threat.
The Slammers (24-35) got their only run in the third when Nate Roberts hit a solo home run to put Joliet ahead 1-0.
The ThunderBolts (22-36) responded quickly in the fourth. Austin Gallagher singled and Max White doubled him home to tie the score.
In the fifth, Coco Johnson and Mike Torres hit back-to-back two-out singles in front of Gallagher, who singled home Johnson to give the ThunderBolts a lead they would not relinquish. Jacob Tanis followed with a groundball to short. A wild throw from Alfredo Rodriguez allowed Torres to score to make it 3-1.
The ThunderBolts did not have a hit after the fifth inning but they didn't need any as Wright combined with Cameron Giannini and Joel Lima to shut out the Slammers the rest of the way. Joliet had only one hit, a single after the fourth inning. They did threaten again with two runners in the seventh on a single and a walk, but Wright got a groundout off the bat of Roberts.
Wright improved to 3-8 with the win while Adam Giacalone (0-1) took the loss, allowing three runs in six innings. Lima pitched the ninth for the win.
The rubber match between the ThunderBolts and the Slammers will be played on Sunday evening with a 5:05 scheduled start time at Silver Cross Field. Zak Wasserman (1-3, 4.42) is scheduled to start for the Bolts against Joliet's Adam Panayotovich (0-2, 5.02). The game's broadcast can be heard on WXAV 88.3 FM and wxav.com.