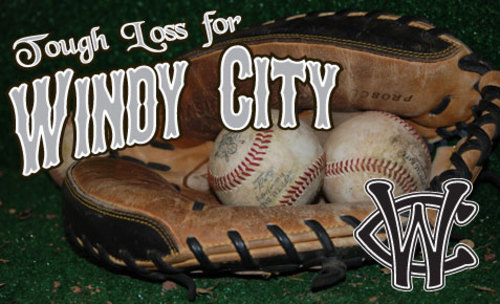 AVON, OH – Travis Tingle threw a complete game for the ThunderBolts but a two-out error in the ninth inning allowed two Lake Erie Crushers to score as the Crushers handed the ThunderBolts 2-1 loss at All Pro Freight Stadium Friday night.
Larry Balkwill hit his first career home run in the third inning for the ThunderBolts (15-26) to give them a 1-0 lead. Brad Zambron did not allow another hit in his six innings for Lake Erie (16-24).
Travis Tingle matched Zambron zero for zero as he threw three perfect innings after allowing two hits in the first. The Crushers got a man in scoring position on a Ty Nelson double in the fifth but was doubled off on a lineout to first base.
Windy City had a chance to extend their lead in the seventh. After Zambron departed, they loaded the bases on a walk and two singles but Daniel DeSimone got a strikeout and popout to get out of the jam.
The Bolts carried their one-run lead into the ninth, where Tingle walked the leadoff man, Austin Prott. Following a strikeout and a diving catch made by Mike Torres, Prott stood at first with two outs. Nelson fell behind in the count 0-2 before hitting a ground-rule double to put the tying and winning runs in scoring position. Joey Burney followed with a groundball to third. Jacob Tanis gloved it but threw wildly to first base, allowing both runs to score and giving Lake Erie a 2-1 win.
Trevor Longfellow (3-2) pitched a perfect ninth inning for the win and Tingle (2-5) took the loss despite not allowing an earned run in the complete game.
The ThunderBolts will try to end their six-game losing streak on Saturday against Lake Erie. Jake Fisher (1-4, 5.93) will oppose the Crushers' Zach Morton (2-0, 1.05). First pitch from All Pro Freight Stadium is scheduled for 6:05 and the radio broadcast can be heard on WXAV 88.3 FM and wxav.com.