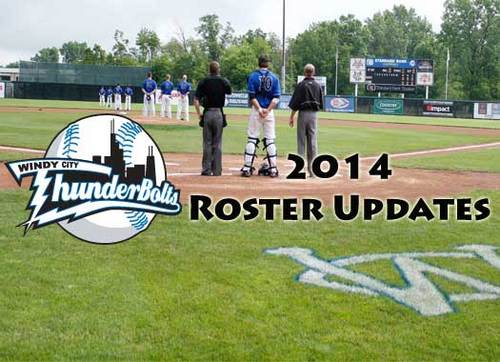 The Windy City ThunderBolts have begun to put together their 2014 roster with the announcement of three new signings, pitchers Eric Perrault and Jason Kafka and utility player Frank Florio.
Perrault signed his first professional contract with the ThunderBolts after impressing manager Ron Biga at the Arizona Diamondbacks camp in late September. A product of Keene St. College, he amassed 33 strikeouts in 25 innings in 2013 while recovering from an injury that cost him most of his junior year. Perrault was the top prospect in the Futures League in the summer of 2011, when he went 5-0 with a 1.56 ERA in nine starts for Nashua.
"Eric can start or relieve," Biga said. "He has electric stuff from the left side, which is hard to find."
Kafka comes to the ThunderBolts from San Jose State University. The 23-year-old right-hander finished 3-2 with a 9.71 ERA in 46.1 innings as a senior in 2013. He pitched parts of the last three seasons at San Jose State after transferring from Bemidji State where he was on the football team. Kafka already has a familiar name on the Southside; the Chicago native attended St. Rita High School and was a member of the football team that won the 2006 state championship. Like Perrault, he was signed out of the Diamondbacks camp and will compete for a spot on the ThunderBolts pitching staff.
Florio will enter his second pro season in 2014 after spending the 2013 season in the Pecos League for the Trinidad Triggers. After playing collegiately for Tulane University, the New Jersey native was the offensive MVP in the Pecos League for hitting .410 with 16 home runs and 82 RBIs in 69 games. Florio, who can play catcher, first base and the outfield is "very versatile defensively and has proven that he can handle the bat," according to Biga. "I look forward to seeing him in camp," he said.
The Windy City ThunderBolts open their 16th Frontier League season at Standard Bank Stadium on Friday, May 16th vs. the Frontier League Greys featuring a $1.25 draft & $2.25 bottled domestic beer! Season tickets, flex plans and group outing opportunities are available now! Call 708-489-BALL or check out wcthunderbolts.com for more information!