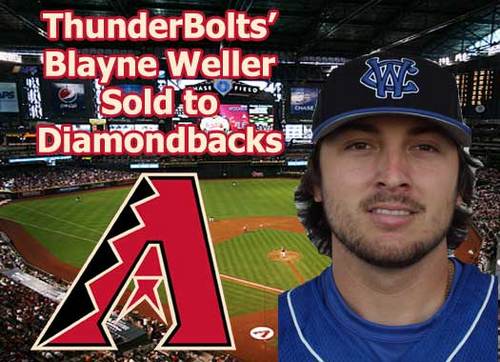 The Windy City ThunderBolts have announced that they have sold the contract of pitcher Blayne Weller to the Arizona Diamondbacks.
Weller is the first ThunderBolt to be signed by a Major League organization this season.
"Blayne's worked really hard to get himself in better shape and it showed on the mound," manager Ron Biga said. "I wish him nothing but the best. He's put the time in and now he gets to move forward and try to live the dream again and I couldn't be prouder of him."
Through two starts this year, Weller led the Frontier League with 18 strikeouts, including 12 in 5.1 innings against Evansville in his final ThunderBolts start on Friday.
Weller, who was drafted by the Minnesota Twins out of Key West High School in 2008, will be getting his second chance in affiliated ball. He went 14-13 with a 3.49 ERA over four years in the Twins' system, rising as high as Class A Beloit.
"I had to work my butt off again," Weller said. "Getting a second chance definitely comes not too often so [this is] much bigger than getting drafted in my opinion."
In just over a year with Windy City, Weller went 5-4 with a 4.19 ERA in 23 games (20 starts). He finished the 2012 season with 108 strikeouts, ranking fourth in the league. This year, he was 0-1 in two starts despite holding the tenth best ERA in the league at 0.79.
"I'm going to miss all the guys around here," he said. "I created a person here that I truly enjoy."
Weller is the second ThunderBolt ever to be signed by the Diamondbacks. He will join his 2012 teammate Eric Meyerchick in the Arizona farm system.