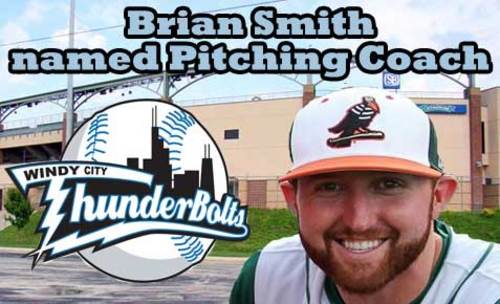 With Ron Biga in place as the field manager for the coming Frontier League season, the Windy City ThunderBolts have begun to assemble their 2013 coaching staff. The first hire to Biga's staff is former Frontier League reliever Brian Smith as the ThunderBolts' new pitching coach.
After recently retiring from his playing career, Smith will be taking on his first professional job as a pitching coach. He previously served as an assistant coach for the Madison Mallards of the Northwoods League in 2009. More recently, he was the pitching coach for the University of St. Francis baseball team in the spring of 2012. The Fighting Saints finished the year 40-17 and Smith's pitching staff ranked 17th nationally with a 3.49 ERA.
Smith spent the last two summers as a member of the Joliet Slammers bullpen, where he played under Biga who, at the time was a member of the Joliet coaching staff.
His 2011 season with the Slammers was one of the more impressive in recent Frontier League memory. He finished with a 1.24 ERA in 40 appearances for the league champions. He allowed just a .182 batting average and had a remarkable 7.75 strikeout-to-walk ratio.
A Chicago Ridge native, Smith attended Richards High School in Oak Lawn and Northern Illinois University. While in high school, he was the Star Newspaper Player of the Year in 2003 and the Southtown Player of the Year in 2004.
Smith succeeds Ehren Wassermann as Windy City's pitching coach and is the fourth in as many years for a franchise that has traditionally put strong talent on the mound. The Bolts have only finished in the bottom half of the league in ERA once over the last six years.