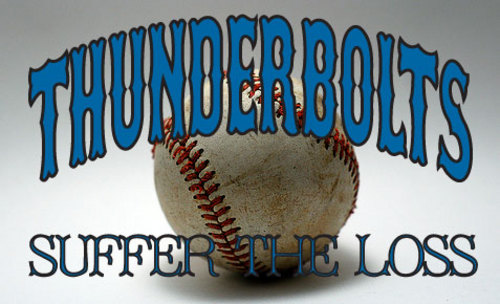 CRESTWOOD, IL –The Southern Illinois Miners scored eight runs in the middle innings, running away with a 12-3 victory over the ThunderBolts Friday night at Standard Bank Stadium.
The Miners jumped on the board right away when leadoff man Eric Suttle singled, stole second and scored on a Sean Coughlin base hit in the first.
The ThunderBolts put runners at the corners in the second but were unable to tie the game, and the Miners began the process of putting the game away in the fourth. Thanks in part to two Windy City errors, Southern Illinois scored four times in that inning. Will Block reached on third baseman Zach Aakhus' throwing error and moved up to third on Coughlin's single. A John Mincone bobble scored Block and put Ryan Meade on first base. Two runs scored on Sean Harrell's single and Harrell crossed the plate on a Boomer Blanchard hit.
Against Andy Heston, the Miners scored two men when Meade doubled home Jereme Milons and Coughlin, both of whom had walked.
The ThunderBolts were down by seven when they scored their first run in the fifth on a Mike Torres single, which scored Larry Pempek.
Southern then posted three more in the sixth. The big hit was Block's two-run double.
Windy City posted a little offense in the final few innings. Chase Porch tripled and scored in the seventh on Pempek's sacrifice fly. In the eighth, Aakhus singled, eventually scoring on a Ryan Basham single. The Bolts loaded the bases in the eighth but did not get any more runs home.
Right fielder Porch came in to pitch the ninth and Southern Illinois added another pair of runs, setting the final score at 12-3.
Brendon Malkowski pitched seven solid innings for the win (6-2) while Mincone lasted four frames in the loss (0-1).
Game two takes place at Standard Bank Stadium on Saturday night. It is Pet Night at the park. American Cancer Society will also be holding a "Jersey off Their Back" auction of the ThunderBolts' uniforms. In addition, there will be a fireworks show after the game. Game time is set for 7:05. Those who can not make it to the ballpark can hear a live broadcast on WXAV 88.3 fm and wxav.com.
Boc Score